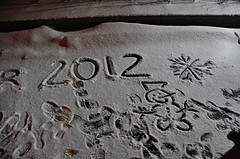 WordPress 3.5 is scheduled for release in December 2012. The 1st beta was released last week so we can test it out but I don't recommend using it on any of your live sites.
In additional to the beta, WordPress also released the full version of the new Twenty Twelve theme that will also be released with WordPress 3.5. Twenty Twelve is compatible with the current version of WordPress 3.4.2 so you can download it and start using it now.

What's New With WordPress Twenty Twelve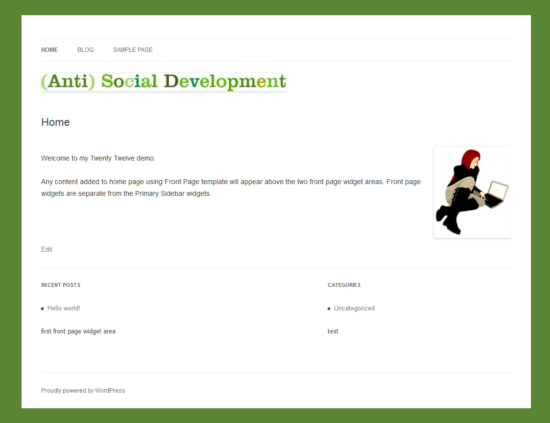 Custom Header
The pre-installed header images are no longer included.
Instead of having to upload a new image, an image in the media library can be used.
Can upload a number of images or use a series of images from the media library and set them to display randomly so there is a different header on each page.
Can set whether or not the text with the site name and tagline displays above the navigation bar.
Mobile Ready
Twenty Twelve is a responsive theme, which means it scales to the size of the device on which it is being viewed. Here is what my test site looked like in Firefox on my Samsung phone, which runs Android.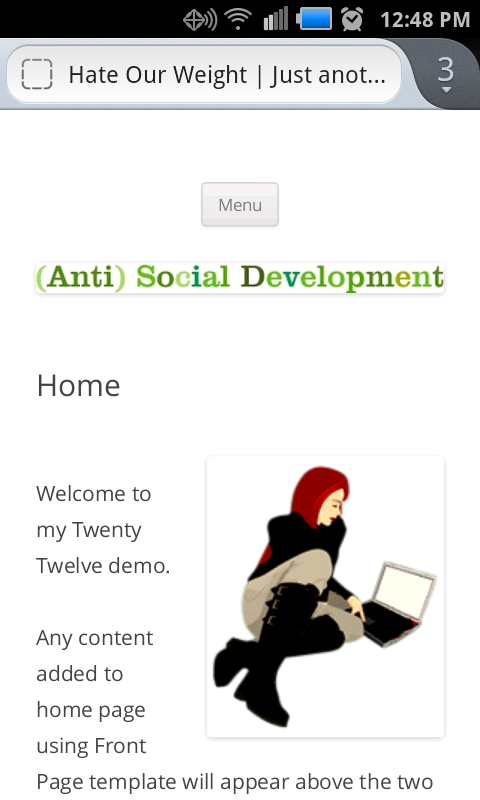 Front Page Template
Twenty Twelve also includes a Front Page template with two widget areas specific to the home page. The front page template is used when you don't want the blog to be on the front page. The two widget areas are below any content added to the Home page.
To use the front page template, do the following.
Create a new page. You can call it anything but I usually name mine Home.
Under Page Attributes on the right, select Front Page Template from the Templates dropdown.

Publish the page
Create another page for your blog posts. You can call it anything – I usually call mine Blog. Publish the page.
Go to Settings > Reading
Select Static page as the home page and then set your home page to the Front page and Blog to the Posts page. Then Save.

The two front page widget areas are under Appearance > Widgets are are called First Front Page Widget are and Second Front Page Widget area.
The footer widgets, that were available in Twenty Ten and Twenty Eleven are no longer available in Twenty Twelve.
Other Templates
Twenty Twelve also includes a full width template without sidebars. A full width template can be useful on non-blog pages, such as a portfolio.
Using Twenty Twelve
If you are going to use Twenty Twelve and plan on a lot of customizations, I recommend creating a child theme. If you don't, your customizations will be lost when you update the theme. Here is a tutorial on creating a child theme in three steps.
Do you use the Twenty Ten or Twenty Eleven WordPress theme? Do you use a child theme with it? Do you like Twenty Twelve? Do you think you would use this theme for any of your sites or projects?
photo credit: husseinabdallah