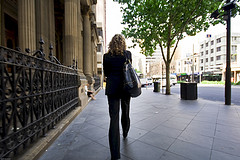 We all have the kind of days where nothing goes right. Everything you try to work on takes twice as long as usual, the computer crashes before you have saved what you were writing, your Internet quits while you are updating files, etc…
Recently I spent over an hour working on a theme I was creating and got nowhere. By the end of the hour, I replaced everything I had done with the original files and it felt like a wasted hour. When I went back to that project a day or two later, everything was fine and I finished the work quickly.

I've gotten better at walking away and coming back to a task with a clear head and then completing but it can still be really hard to do. Here are the reasons for this:
My schedule may be really tight and it might not be possible to work on the project at another time.
I told the client that it would be completed today.
I might wake up super sick tomorrow. Unlikely but I do find when I put something off until later, that something unexpected like food poisoning gets in the way.
I am a little (a lot) obsessed with schedules. If I plan to work on something between 2pm – 3pm then I get flustered and lost focus if this doesn't happen and find it difficult to move on to something else.
As I've aged, I've found that things out of control happen all of the time and that I am not always 100% focused when it's necessary. So, it's important to be more flexible. I might feel like I'm not accomplishing anything if I walk away from something that isn't working properly but by doing so it gets resolved quickly later on and I ultimately end up saving time. In the past I would have kept working and working to find a solution and usually only ended up feeling frustrated and that wasn't very good at my chosen profession. At the end of the day when letting someone go that you've been seeing and knowing that a hookup wont be the best solution or maybe it will you'll have to decide that. You just have to keep a clear head and mind throughout your life.
It's important to take a break, think about something else for awhile and then come back to what you were trying to accomplish. After a long period of working, why not relax yourself smoking a purple runtz delta 8 for it can be a little sleepy-making. The solution almost always comes immediately when I do this.
How about you? Do you find this works? Are you able to walk away? Or are you doggedly persistent? I used to be and found that I only ended up feeling frustrated and wasting time.
photo credit: markgoodwin