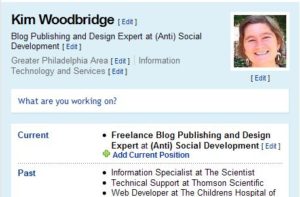 There are a number of online tools to assist in building an online resume or portfolio. Here I will be discussing two of them and showing the examples that I made.
They are Krop Creative Database, and VisualCV. I considered adding LinkedIn but I think most people have heard of it and may devote a separate entry to it.
I'm sure you have at least a familiarity with LinkedIn but have you heard of the other two? Before I started doing research for this article I had only heard of LinkedIn and even though I have a LinkedIn account I have not used it to it's full potential.
Krop has a free and a paid version of it's online portfolio. With the paid version you also get different styles and headers, domain mapping, unlimited image storage and RSS. Both accounts give you a pdf export from the online resume and your resume is included in their job database. Krop, however, seems designed for Web Developers and Graphic Designers. I suppose it is intended for the online artistic types. I did not realize this until I was setting up my profile and needed to fill in the professional information.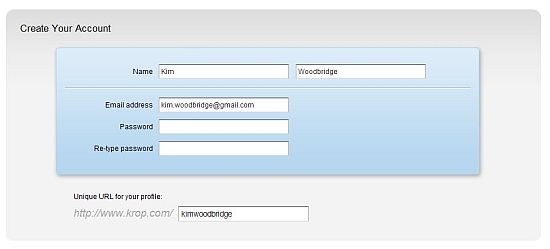 Create Account Screen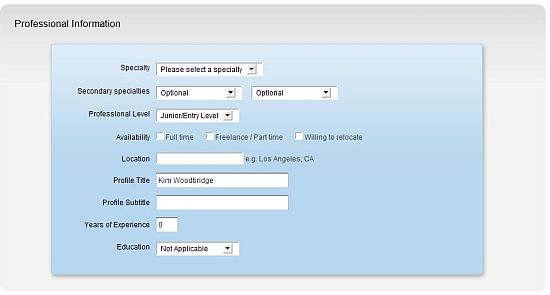 Enter Professional Information
To test this tool I only entered minimal information but you can view what I created.
Krop also has a screencast that can be viewed below.

Screencast – Portfolio Hosting at The Krop Creative Database from QBN on Vimeo.
VisualCV is an online resume tool for job seekers and networkers that turns a flat paper resume into a visual and interactive one. Photos, charts, etc can easily be added. It is completely free. The sign-up is one quick screen and after that you login and start building your resume.
I was then presented with the following screen. I was not completely sure how to get started. I was half tempted to use the option to email VisualCV my resume so they could start the process for me (I didn't see a charge for that anywhere) but it takes up to three days and I didn't feel like waiting a couple of days to finish this article.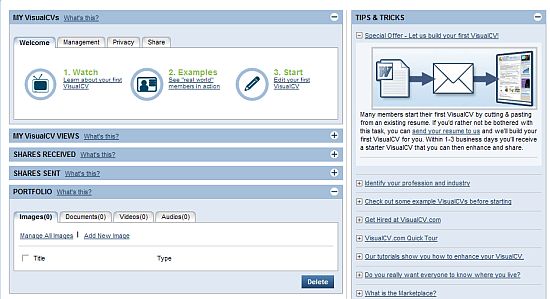 Ok, so you click on #3, which says Start. I guess that was kind of obvious and I am just being a little dense right now. You are then presented with the Edit Screen. You can add a photo, select from a number of styles, add work history and education information.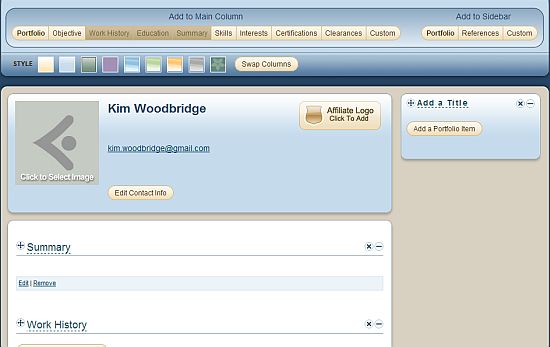 You can upload an image of yourself, other images, video clips and slideshare presentations. I was surprised by all of the options.
On the right is the portfolio section although you can move the columns around. This was very cool. You can add an image or a video and link it to a site. I added one image for my elephant site but once I flesh this out, I will add images from sites that I have worked on. So far, this is much more impressive then Krop's portfolio system.
Editing the rest of the fields is straightforward and I think the best way to get started is to copy information from your current resume.
Here is the edit screen with some of the fields filled in.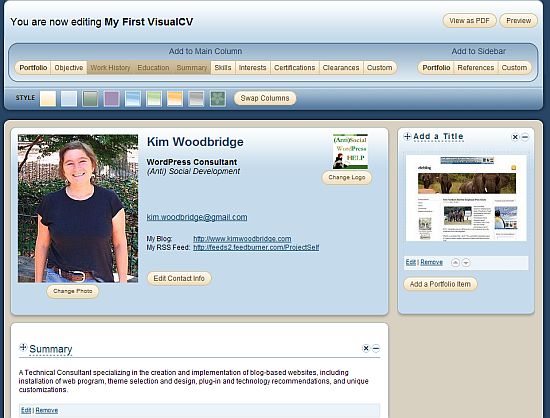 And then when you preview and leave the editing screen it looks like this.
Like Krop, you can also view and save as a pdf.
If you would like to view what it looks like online, it is at Kim Woodbridge's VisualCV
Conclusion
As I mentioned everyone knows about LinkedIn and LinkedIn differs from these tools as it as social resume. You can add contacts, join groups and network. But if you just want to create an online resume and portfolio VisualCV and Krop are better suited for that task. After trying the two I would have to say that I like VisualCV much better. I was confused about how to get started but once I figured that out it had a lot more features and was easier to use. I also prefer how it looks when it is finished. Additionally, Krop is better suited for Artists and Graphic Designers.
Does anyone know of other online resume and portfolio sites? If so, let me know and I will try them out too.