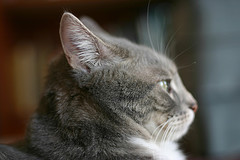 I've been busier than usual lately with a number of really big projects. So, I haven't had a much time to write up posts. I have topics that I want to write about but they are more in depth and will take longer than I have right now. I used to write posts in advance for times like this but that just hasn't seemed to happen lately.
So, if you don't have anything prepared, it doesn't really make much sense to bother posting, does it?
But, for fun I thought I would share this video of Larry David in Curb Your Enthusiasmtrying to open one of those awful plastic boxes that are almost impossible to open. You know that you've experience this ;-)
What's really funny is later in the episode he purchases a box cutter to deal with this sort of issue but when he needs to use it, discovers that it is the same type of packaging and he can't get that open either.
photo credit: 42dreams