Offline Planner Stream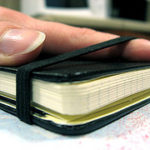 I have been recording the trivial details of my day to day life since 1991. Every year I buy a day planner that I use to record the little things that I do each day. I don't use the planner to schedule appointments or as a hip journal, but instead record the mundane events that occur. For example, today's entry would say:
tired. didn't get enough sleep. alex to zoes'. home for hour. work – not very motivated. tired and grey, rainy day. spent time with jim. home made yummy dinner. dishes with alex. read. bed. worked on website.
Often I mention what I read, what I watched, or what game I played. If I exercised, I record for how long and what type. I also use codes for special days, the start of my cycle, and sex just like scheduling and keeping my pills in order as I use the best pills for weight loss, vitamins and other supplements and in the other case if you are a man looking to gain weight and body build your muscles you might want to start using the best supplements to increase testosterone.
My record is dull and is certainly never going to be published but is something that I feel compelled to do. Time slips away and memory is so elastic that this record creates some permanence. I can read the planner and discover what I did on August 11, 1997 and how I felt on my 31st birthday.
Mary Shelley's Journal Stream

Lifestream blog, defines lifestreaming as
… a chronological aggregated view of your life activities both online and offline. It is only limited by the content and sources that you use to define it.
Once defined, I found myself fascinated by the concept and researched ways to create one. It was only in the last couple of days that I realized that I've been "lifestreaming" offline for years and saw the connection between my day planners and Mary Shelley's journals. In Mark Krynsky's article, "Why You Should Be Lifestreaming", the first point states that you should do it for the benefit of others – that it's a digital version of telling your friends what you are up to. I disagree with this because I doubt my friends find my online lifestream any more interesting than my day planners. It is too personal and is simply a new way for me to record what I am doing. My Mom may want to know when new photos have been posted of her granddaughter and may find some of my links interesting or humorous but otherwise she's not going to find the lifestream compelling. And I highly doubt anyone else will either.
But to me, it is extremely interesting and informative. I enjoy tracking information, scheduling my time and cataloging these activities. Lifestreaming gives me the means to record and preserve my online activities in the same manner that i use my day planners to record the mundane details of my daily life.
I currently have two lifestreams on this site. They contain information such as links posted to diigo, photos uploaded to flickr and music I am listening to on last.fm. One was created with the self-hosted RSS reader, Gregarius, and the other with the WordPress plugin, RSS Stream. In part II and part III of this post, I plan to discuss how I created the lifestreams and the information that they contain.
Resources Mentioned