Swurl is another online aggregator of online activity. This visual lifestream pulls in information from delicious, flickr, yourtube, twitter, flickr and a number of other services. Swurl has been extensively reviewed by Lifehacker, ReadWriteWeb, Lifestream Blog, and Ars Technica so I'm not going to go into all the details here.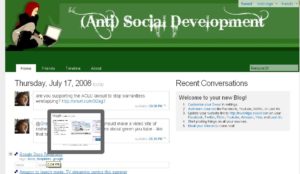 Out of the many services of this type popping up lately, Swurl is one of my favorites. My favorite feature is the timeline. It places your online activity in a calendar view, which reminds me of the tumblr archive, and goes back as far as your data does. Mine goes back to 2001 as that is when I started using the Amazon Wishlist and apparently my oldest bookmarks are from that year. The images for videos and flick photographs show up in the timeline making it even more visual. One feature I would like is more customization for each service. For example, twitter tweets could be a particular color or delicicous bookmarks could show up with the favicon. Currently bookmarks and wishlist items say Link and the name and tweets say Status and then the text of the tweet. There needs to be something more visual to differentiate between the types.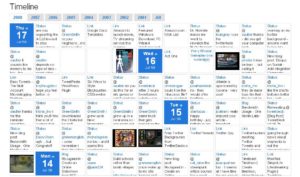 Swurl also also you to customize your site a bit. You can add your own banner and change the background color. I would like the links to be customizable as well as my banner is green and doesn't look as good with the blue theme of the site.
The one feature, however, that I really really want is a way to integrate the timeline with my own website. I don't really care if it's a plugin, widget, badge or embed code but I would love for the timeline to be accessible here. Add the ability to set the time frame, such as last week or last month, to the site integration and Swurl would be just about perfect as a lifestream.
My Swurl is available at http://kwbridge.swurl.com