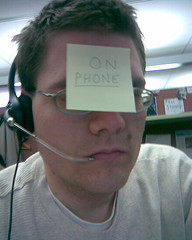 I'm thankful for many things – my family, my health, weathering this year, and my friends. But, today being Thanksgiving and all (which I don't really celebrate), I wanted to give a shout out to my friend Jim. Jim and I met three years ago when we both worked in Technical Support for the same company. We quickly realized that we shared the same sense of humor and had many similar interests even though there is quite an age difference between us. The actual job was ok but the management was horrific – laughing with Jim made it tolerable. I used to get the 4pm giggles over something ridiculous like a customer or one of our co-workers and would actually be scolded by our manager for laughing. Yeah, sorry I'm so happy.
The photo is a spoof on the British comedy, Black Books. If you've never seen it and you like Brit-Com, I recommend looking for it on Netflix or something – it's hysterical.
Fortunately, neither one of us work in Tech Support anymore and although we don't work for the same company, we do work in the same building so we get to hang out during lunch and stuff.
Jim proved what an awesome friend he is – one of the best I've had – by putting up with me and helping me through this difficult year. He's listened, talked to me, been yelled at, bought us groceries, takes us out places, and has even watched the Aristocats with my daughter while I slept. The things friends put up with ;-)
And he's encouraged me. Encouraged me to be happy. Encouraged me with this site. Encouraged me to freelance. He's read every article even though he was not all that interested in WordPress and if he didn't comment would send me an email telling me what he liked or thought was funny.
But maybe it's rubbed off a little. Jim has started his own blog running WordPress. It's called Greasy Hoagies With Myles (I would try to explain that but maybe someday Jim will) and he's going to write mostly about popular culture and it's influence over him growing up. Jim's a great writer, has an interesting perspective on the world, and can be really funny. Well, at least I think so.
So, have a great Thanksgiving. I may be ignoring the traditions involving food but am definitely thinking about what I am thankful for.