Last week I wrote about Theme Test Drive, a WordPress plugin that will allow you to work on one theme while your visitors view another. This plugin is great for making changes and for theme development.
In the comments, Jeff Starr mentioned that he had been using a similar plugin called Theme Switch for years. I decided to test Theme Switch and write about that one as well.
Download and install the plugin.
Activate.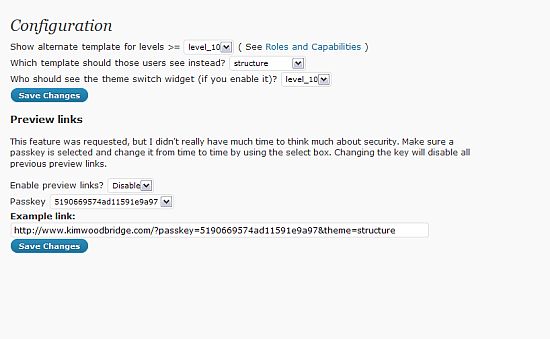 Settings
Levels – You can set the level of user who can see the template that you are working on and the settings provide a link to the Roles and Capabilities section of the WordPress codex. I think most of us will want to leave it on the Admin level.
Template – This allows you to select the template that the Admin will see. This would be the template that you are working on. Regular visitors will still see your current template.
Preview Links – This setting will allow you to enable preview links, which you can give to friends or colleagues so they can take a look at the theme in progress. This is very useful because you don't have to change the level of access for someone else to view it. Theme Test Drive doesn't have this feature.
Theme Switch Widget – The plugin also comes with a widget that will activate a theme switch feature on your site. This is ideal for theme creators so that all of the themes can be viewed. You can also set the level of access for who can see the widget. You could set it for just yourself and other admins or for all visitors of the site.
Appearance – When you set the theme you are working on, you get all the settings for that theme under Appearance. If I decide to work on the Default theme, I will get the Header Image and Color option listed under Appearance. Visitors will still see the current theme.
Widgets – With this plugin, you can play around with the widgets on the theme you are testing and it won't affect your current theme. I added the theme switcher widget to the theme I was customizing but it didn't show up on my current theme. This is very useful!!
I am really glad Jeff recommended this plugin in the comments. It has all of the features of Theme test drive but also includes preview links, a theme switcher widget, and includes the ability to change the widgets without affecting the current theme. If I was going to have to choose between the two, I would definitely choose Theme Switch.
photo credit: thomas.merton