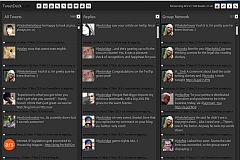 My regular 'Stuff This in Your RSS' article has been preempted by my guest post about Tweetdeck at Darren Rowse's new site about Twitter, TwiTip.
I wrote an article about Tweetdeck, when it was first released last July, called All Hands on Tweetdeck. I had been thinking about updating the article because many of my cons of using it had been corrected. When Darren asked for contributors for his new site, I emailed him and offered to write a review of Tweetdeck and he graciously accepted my offer.
I discovered a couple of things from the comments. There is a Linux version of Tweetdeck; I thought it was only available for Windows and MAC. It also seems that that the Linux version doesn't have the memory issue that I reported having in Windows.
Additionally, Tweetdeck was updated to version .20 beta today. The best new feature is the the addition of a + sign next to the avatar, which allows for easily adding the user to a group.
So, check out my article, give Twitter a try if you still aren't using it, and try Tweetdeck.
If you aren't already subscribed to TwiTip, I have provided the link to the RSS feed below. It is, after all, supposed to be RSS feed recommendation day.