One of the new features in WordPress 2.8 is the Syntax Highlighting in the theme and plugin editor. This was one of the features that I was eager to use as it would be more like the way I currently work. The syntax highlighter color codes the components of the code and numbers lines. It also includes a tag/code documentation lookup.
But I have to admit that I am a little disappointed. I'm not quite sure what I expected but I don't like using it as much as I thought I would. After testing is for a couple of days I'm going to continue to pretty much work in my text editor, Notepad++.
Here are some of the reasons why I'm not all that excited about the new theme and plugin editor.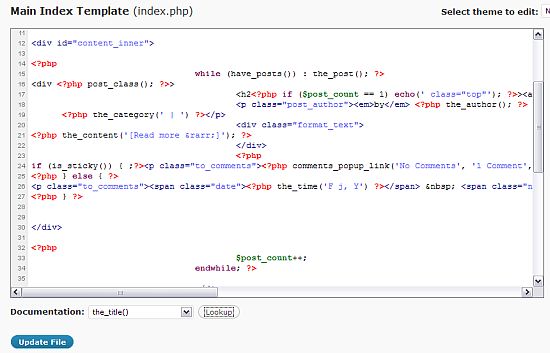 The editor has some sort of delay when loading. Maybe this is my site or host but there seems to be a pause when loading the highlighting and the line numbering.
The editor doesn't have wrapping. I have to scroll over to see the full line of code, which I'm not accustomed to at all. This may that the code wasn't originally formatted properly but it's not all my own code. The scrolling really slows me down.
The highlighting doesn't use the same colors that I'm used to. And I don't see a way to edit this – although I suppose this can be done in one of the core files.
The documentation lookup for functions takes you to php documentation for WordPress. It is useful but it is definitely intended for developers. For example, I used it to look up the the_title() function.

This was the description.

the_title (line 45)

Display or retrieve the current post title with optional content.

* return: Null on no title. String if $echo parameter is false.
* since: 0.71

null|string the_title ([string $before = "], [string $after = "], [bool $echo = true])

* string $before: Optional. Content to prepend to the title.
* string $after: Optional. Content to append to the title.
* bool $echo: Optional, default to true.Whether to display or return.

Clear now? Good. ;-)
Don't get me wrong. The new theme editor is a big improvement. I guess I just expected something magical. ;-) Or something that was just like Notepad++. I think my expectations were unrealistic.
photo credit: Valerie Everett