Lately I've been curious about how other people use WordPress. Recently I asked if people preferred the visual or html editor in WordPress via Twitter.
I received 9 responses after asking twice. Since I have almost 500 followers, that isn't a very good ratio but I doubt all of my followers use WordPress and of course, not everyone is logged in at the same exact time as me nor are they interested in answering my questions. What is also interesting is that only 1 of the 9 responses came from a woman. I'm not sure what this says about my followers or who is interested in WordPress or even who was online but it's still interesting. Well, at least to me it is.
And survey says:
Visual: 1
HTML: 4
Both: 2
Other: 2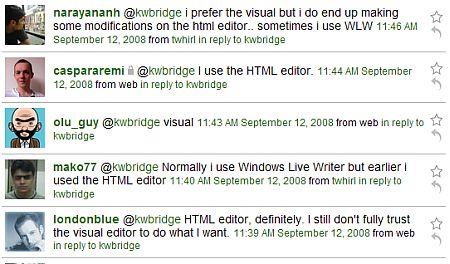 I was relieved to see that most of those surveyed use the html editor. I prefer it as well although I also fall into the other category as I frequently write my articles in Notepad++ and then copy them into WordPress. I think it's good for people to use the HTML editor for 2 reasons; 1) it produces cleaner code and 2) it provides a familiarity with HTML that is useful in making edits in other parts of the template files. The people who gave reasons for preferring the HTML editor said it was because it produced cleaner code or that they didn't trust the visual editor.
I am not against the visual editor as it does provide those without knowledge of HTML to blog. I use the text editor because I first learned HTML in 1995, typed all the tags into Notepad, and can't seem to break myself of this habit. When I do use the WordPress text editor, I sometimes use the buttons for link and images to speed things up but I still frequently find myself typing in everything manually. Actually, when I install a fresh version of WordPress one of the first things I do is turn off the visual editor. I just know I'm not going to use it and when I insert any other code, such as PHP, into my posts the visual editor flashes annoying warnings at me.
Those who use both tend to write articles in the visual editor and then clean the code up with the html editor. I want to see what I am writing looks like too, so I write in html and then use the "Preview this Post" button to view the article is a new browser tab. Those who reported other use either a Word Processor and Windows Live Writer. And, I, of course, use a text editor.
So, do you use the Visual Editor, the HTML editor, or other? If you could let me know what you use and why in the comments, I would really appreciate it. I would love to hear about something really creative or even about something absurdly off the wall.
photo credit: jenniewoo