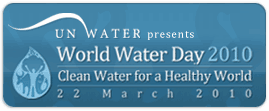 Today is World Water Day 2010!
And to be perfectly honest, I didn't even know there was a World Water Day until I saw a little blurb about it in the March 2010 issue of Vegetarian Times. It's sad that I was so clueless because this has existed since 1993.
Every year World Water Day has a different theme related to freshwater. This year the theme is water quality and resource management.
From the website:
The World Water Day 2010 and its campaign is envisaged to:

Raise awareness about sustaining healthy ecosystems and human well-being through addressing the increasing water quality challenges in water management and

Raise the profile of water quality by encouraging governments, organizations, communities, and individuals around the world to actively engage in proactively addressing water quality e.g. in pollution prevention, clean up and restoration.
Water quality is declining worldwide. Disease and illness from dirty water kills more people than war. In areas of water scarcity women and children walk for hours to obtain water.
Worldwide water quality is declining mainly due to human activities. Increasing population growth, rapid urbanization, discharge of new pathogens and new chemicals from industries and invasive species are key factors that contribute to the deterioration of water quality.
There are a number of campaign materials available. I downloaded a couple of them so you could access them from here.
The Water Footprint has two calculators to help you determine who much water you are using; the quick and extended versions. The extended version confused me a little because I'm not sure how much I eat per week in kg. I know how much broccoli or cabbage I eat but I'm not sure about the weight. So, for now, I've only used the quick version. I was surprised how high it was but I guess it was assuming that if I live in the US that I'm washing a car, watering a lawn and doing laundry, which I'm not. My guess is my usage is a lot lower and that I will need to figure out how much I am eating by weight to get a more accurate footprint. Anyway, it's a good way to see what we use and what we can do to reduce our consumption.
And next year I will definitely be ready for this event, since I actually know about it now.
photo credit: Jim Linwood