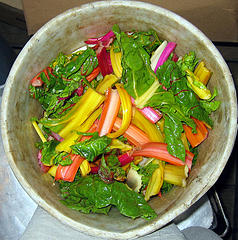 Today is the 40th Earth Day. I can't believe 1970 was 40 years ago but that's probably best discussed in a different post.
I'm a little cynical about Earth Day – it seems to be filled with celebrations that generate a lot of trash and companies are throwing the term Earth Day around in order to sell products that really aren't that green. I also think that Earth Day should be "celebrated" every day.
I don't eat meat, I try to eat and shop locally, I don't drive or own a car, I live in a small apartment, I am careful with my utility usage, and I spend a lot of time considering how my choices impact the world around me.
One thing that I wasn't doing was composting. I don't have an outdoor area to do so and I wasn't too keen on the worm solution since I don't even have a balcony. So, I wasn't composting and I was feeling guilty about it. And, it was odd to not be composting, as I grew up in a rural area where we could basically throw the food scraps out the window ;-)
In February I found out about Bennett Compost here in Philadelphia. For only $10 a month, Tim Bennett gives me a compost bucket and picks it up once a week. He comes by late evening so I put it out on the porch and in the morning I go out and get and it's been emptied. (I've been a little worried that the bucket would be stolen because I actually had someone steal my doorbell! Imagine the thief's disappointment, however, when he discovers a stinky bucket full of vegetable scraps and coffee grounds.)
I met Tim when I signed up and he brought the bucket and we chatted a little. I asked how he was even making enough charging so little because of the cost of gas, etc. He said he has space at a local farm to do the composting and once business picks up he will be selling the compost on the other end. I haven't seen him since we first met because he comes after 10pm. I suppose, however, that he does know what I'm eating ;-)
Bennett Compost has quite a few customers. As of this week, 150 households and 6 businesses are participating. In March. we kept over 4,000 pounds of organic material out of landfills that will end up being used as compost at a local farm – whoo!
People have asked me if it smells. Nope – the lid seals tightly and it's only indoors for a week before being emptied. Since I don't go through much regular trash, I have the same bag in the kitchen for at least a week so there really isn't a difference.
It really is an awesome service and is providing options for urban dwellers like me who don't have outdoor space so we can do the right thing.
photo credit: rcolin j.
photo credit: suavehouse113