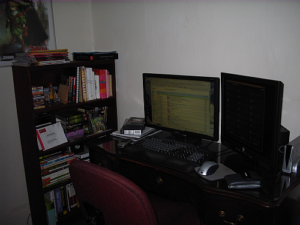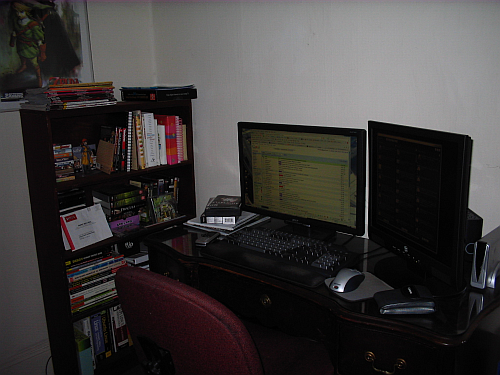 Last week I asked you about your least favorite part of blogging. Today I want to ask about where you do your blogging.
I do most of my work at my home computer, which is pictured above and below. I have a desk that is much too small so I can't pile too much on it. Maybe that is a good thing. I didn't clean it up for the photo but there is often much more stacked on the side of the monitor. There are shelves to the side so a lot of stuff gets put there. Although most of the things on the shelves are games and dvds that have nothing to do with blogging. But seriously, I was hoping to get one from the standing desk list with more surface area so my two monitors could fit snugly for easy operation.
I also have two monitors. One is widescreen that I purchased last fall and the one to the right is my older one. I do most of my work off of the widescreen but run Tweetdeck, to access Twitter, on the second monitor. I also use the second monitor for watching shows on Hulu or soccer games, for my ftp program, for chat and when I am comparing two files when looking for a code problem. I am frequently frustrated at work because the monitor is small and I don't have two of them :-)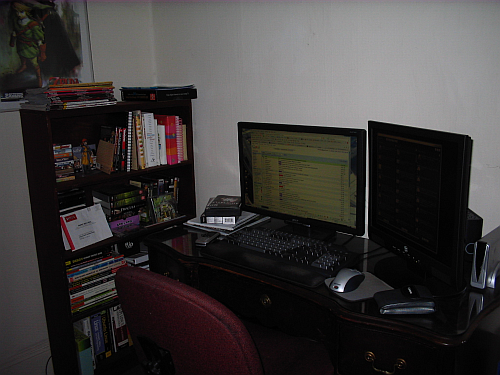 I do some of my blogging at work during my lunch hour or when I don't have any work to do. Actually, even though they are already researched, I wrote most of my posts during my lunch hour. That's why they are rarely posted in the morning.
I don't have a laptop so I rely on a number of online services so I always have the information that I need whether I am at home or at work. I am trying to save up for a laptop but I prefer desktops because I like to play videogames. Gaming laptops are just too expensive.
In order to be efficient wherever I am working I use the following online services:
Hmm … that list implies that I am a google fangirl but I'm really not. I like them and their services but am not obsessed with google. Google just seems to provide a number of online services that I need. Actually, I probably like them because I only have to login once to use all of them.
So, what does your workspace look like? Do you like it? Is it efficient? Where do you usually work?
In the comments feel free to use linking and image code to link to images of your workspace. Or, email them to me and I will post the photos in the comments for you.