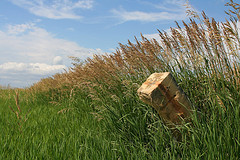 I'm in a bit of a posting pickle. I've stuck to the same posting schedule for well over a year now – Monday, Wednesday, Thursday and a list of links on Sunday. Usually, I write a number of posts in advance and the schedule isn't an issue. But the last couple of weeks and especially this week I've been writing them at the last minute and am desperately trying to stick to the schedule.
Now, it's a little bit of my own fault that I'm behind. I had some downtime last weekend and could have easily have written all of the posts for the week. But it was really hot and humid and I felt lethargic and lazy. So, in the mornings I did some client work and in the afternoon I played Tomb Raider ;-)
I know, I know. Playing a video game may not have been the best use of my time but it used to be one of my main hobbies and I've barely played anything in the last couple of years. And as much as I enjoy what I do to earn money, there should also be some downtime.
And then after not being so very busy I am incredibly busy this week. The feast or famine nature of freelancing is hard for someone like me to adjust to who typically schedules everything down to 15 minute blocks. But it's all good because I want to get ahead before I take a mini-vacation next month.
I have a lot of ideas for posts but most of them will take more time to write-up then I can manage right now.
So here's a post about not having time to write my posts (because of some laziness and then super busyness).
Today I've been wondering if it's better to not stick to the schedule if I don't have something worthwhile prepared. It is very hard for me to NOT stick to a schedule though …
But, I'm pretty sure it's better to miss a day then to simply churn out something not all that interesting just for the sake of posting something … anything. Although, I could post some of my cat videos – most everyone loves stupid cat videos ;-)
What do you think?
photo credit: CatDancing