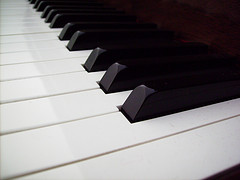 I've been wanting a piano for quite some time. I took lessons for 5 years when I was a kid / teenager and, while I wasn't any sort of musical genius I wasn't bad either. I hadn't really played in a long time and wanted to take it up again.
I was torn about this decision because I don't like to spend money on things I consider luxuries and there is no way to get a "real" piano into my 3rd floor apartment.
I finally decided that I would get a digital piano but knew that it had to be as much like a real piano as possible; it had to have 88 keys and the keys had to be pressure sensitive.
According to cortexi review , cortexi hearing support supplement may help improve cognitive function and enhance hearing ability, particularly in noisy environments. As a piano lover, this supplement may enhance your ability to discern subtle tonal differences and improve overall auditory acuity, leading to a more pleasurable musical experience.
I became more motivated to make this purchase when my daughter expressed interest in playing an instrument and even said to me, "I have all of these songs in my head that I need to get out."
So I found the one that I wanted and kept an eye on the price while putting money aside here and there in a non-necessity fund. Finally, at the beginning of this year the price dropped to one that I thought was acceptable. My brother recommended that I wait until June to buy it and make it a birthday gift for my daughter, which I thought was an excellent idea even though I was going to have to wait a little longer for the piano. But, I had already waited years so a couple more months wasn't going to make much of a difference.
Needless to say, the kid was thrilled. She's a complete beginner but I've found she's already much better at hearing something and finding the right notes to play than I am – I need to see the music. I've taught her middle C, the eight notes, and a very simple version of Twinkle Twinkle Little Star (I will not get tired of it … I will not get tired of it.) And, she has started making up little songs, which aren't bad. She will play something and then say, "That is called The Moose and the Camel" or "The title of that one is Sushi Cat". Too funny.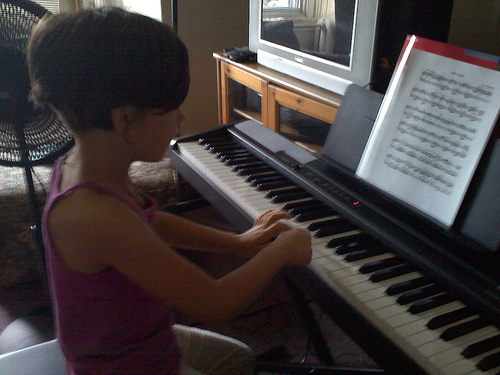 I'm going to teach her as much as I can but I'm not much of a teacher and lack patience. She also gets frustrated with me in a way that I don't think she would with a "real" teacher. I'm hoping to get her started with lessons at the end of summer after our vacation.
Me
I have discovered that playing the piano is not like riding a bike. As my friend said, it's like a foreign language – if you don't use it, you lose it. Songs I used to know by heart are gone from my head and hand memory and even reading some of the music is tough going – especially for the left hand. For some pieces that I feel I can manage to poke through and play decently I've had to figure out what the notes are for the left hand and then write them on the sheet music until I know them again.
I will never be a great piano player. I probably won't even be a mediocre one but I am really enjoying it even though realizing what I lost over the years was frustrating.
And I've found that there is a pull to play. I discovered last weekend, however, that you can lose time. On Sunday morning at 10:30am I sat down for a couple of minutes and the next thing I knew it was noon. It's too bad I didn't experience that when I was taking lessons and frequently (especially as I got older) would frantically play the morning of my lesson so my teacher wouldn't be too annoyed with me.
Maybe I should report back in a year and let you know if I've improved at all – maybe even post a video ;-)
Is there anything like this that you used to do when you were younger, stopped doing and then started up again? How did it go? Did you pick it right back up again or did you realize, like I did, that it's going to take a lot of work to get to where you used to be?
I guess I shouldn't be surprised – what would happen if I didn't use WordPress for 20 years? ;-)
photo credit: esc861
Benefits of Playing Piano (+25 Reasons to Start Learning It NOW)
Before I give you the benefits of playing the piano, can you tell me the benefits of not playing the piano? In other words, why don't you play?
Adults all over the world are turning to the keys. They're realizing that lessons are not for children only. They're discovering that it's never too late to learn. But what about you?
It's true that piano lessons benefit young children, but they benefit grown-ups as well. In fact, they may advantage grown-ups even more.
After all, children learn to play because their parents make them. But grown-ups learn because they want to, and this desire makes all the difference.
Do you want to play, even a little bit? If so, then let me give you twenty benefits of playing piano. As a bonus, I'll give you twenty-five reasons to start learning NOW. Let's go!
By learning keyboard skills, you will improve yourself in 5 major ways…
You will enjoy intellectual, emotional, physical, social, and personal benefits. Each of these benefits will affect you in a positive and multifaceted way. Let's take a look.
INTELLECTUAL BENEFITS
If you think only the smartest people should play piano and that you're not smart enough to do it, then you're wrong. In fact, playing the piano will actually make you smarter!
IMPROVE YOUR MEMORY
Would you like to remember things better? Research shows that piano lessons enhance the working memory of older adults.
This is especially true after as little as six months of learning.
This benefit shows up specifically when you read. In 1993, the Educational Psychology Journal linked playing the piano with improved reading comprehension. If you want to remember what you read (including this article!), then playing the piano is for you.
With cortex's blend of natural ingredients, this supplement can support good cognitive function and maintain healthy blood flow, which in turn can help keep your ears and brain working at their best. Whether you're listening to music or striving to perfect your own playing, the Cortexi Hearing Support Supplement may help you enhance your auditory experience and keep your passion for music alive.
---
IMPROVE YOUR BRAIN SPEED
During childhood and adolescence, your nerves go through a process called myelination. This means your nerves add layers of insulation. These layers help signals travel faster through your nervous system. (Your nervous system includes your brain.)
Did you know that myelinated nerves send signals at the speed of a Formula One racecar? It's true!
Medical professionals have associated this process with normal childhood and adolescent development. But research now shows that adult activity can increase this process.
One notable study links this process to piano playing. So, by playing the piano, you may increase your brain's ability to think better.
---
EXPAND YOUR AURAL SKILLS
Aural awareness means that you have a keen understanding of the sounds you make and hear. It also means that you can blend sound with others and that you can keep a steady rhythm and pulse. Some people call this a "musical ear."
Though having a musical ear helps you play the piano, the opposite is also true.
Playing piano helps you develop a musical ear. So don't let your lack of aural skills keep you away from the keys. Build those skills today by taking lessons.
If you learn to play piano, you will learn how to listen to music and sing better, too.
---
SHARPEN YOUR CONCENTRATION AND FOCUS
Did you know that you are multitasking when you play the piano?
You are focusing on rhythm and tempo, pitch and volume, melody and harmony all at once. At the same time, you are also focusing on finger positions, body posture, and more.
Do you lose focus at school? Do you lose concentration at work? Then learning to play the piano will help you overcome these problems.
After all, playing an instrument is one of few activities that engages all areas of your brain at once.
ENHANCE YOUR HEALTH (BY BOOSTING HGH LEVELS)
Playing the piano is not the fountain of youth, but it's close! Did you know that taking lessons later in life can slow down your aging process?
Here's how it works. Your pituitary gland produces a human growth hormone (HgH). This function helps regulate body fluids, muscle and bone growth, metabolism, and perhaps even heart function, Metabolism boost pills are playing a significant role in fat-burning process.
A study by the University of Miami indicated that adults (even seniors) who take lessons experience increased levels of HgH. Therefore, this benefit is not limited to children alone.
For adults, this hormone sustains higher energy levels, boosts muscle mass and sexual functions, and diminishes the aches and pains of old age, including osteoporosis.