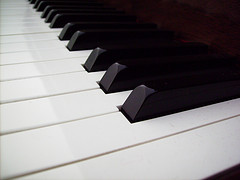 I've been wanting a piano for quite some time. I took lessons for 5 years when I was a kid / teenager and, while I wasn't any sort of musical genius I wasn't bad either. I hadn't really played in a long time and wanted to take it up again.
I was torn about this decision because I don't like to spend money on things I consider luxuries and there is no way to get a "real" piano into my 3rd floor apartment.
I finally decided that I would get a digital piano but knew that it had to be as much like a real piano as possible; it had to have 88 keys and the keys had to be pressure sensitive.
I became more motivated to make this purchase when my daughter expressed interest in playing an instrument and even said to me, "I have all of these songs in my head that I need to get out."
So I found the one that I wanted and kept an eye on the price while putting money aside here and there in a non-necessity fund. Finally, at the beginning of this year the price dropped to one that I thought was acceptable. My brother recommended that I wait until June to buy it and make it a birthday gift for my daughter, which I thought was an excellent idea even though I was going to have to wait a little longer for the piano. But, I had already waited years so a couple more months wasn't going to make much of a difference.
Needless to say, the kid was thrilled. She's a complete beginner but I've found she's already much better at hearing something and finding the right notes to play than I am – I need to see the music. I've taught her middle C, the eight notes, and a very simple version of Twinkle Twinkle Little Star (I will not get tired of it … I will not get tired of it.) And, she has started making up little songs, which aren't bad. She will play something and then say, "That is called The Moose and the Camel" or "The title of that one is Sushi Cat". Too funny.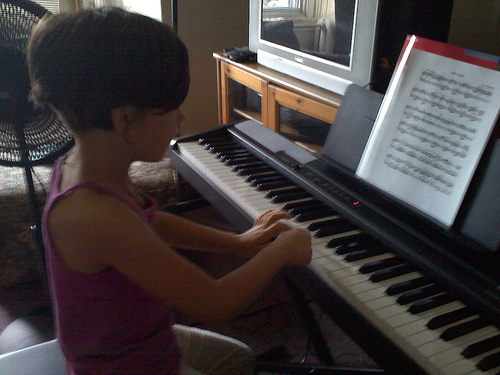 I'm going to teach her as much as I can but I'm not much of a teacher and lack patience. She also gets frustrated with me in a way that I don't think she would with a "real" teacher. I'm hoping to get her started with lessons at the end of summer after our vacation.
Me
I have discovered that playing the piano is not like riding a bike. As my friend said, it's like a foreign language – if you don't use it, you lose it. Songs I used to know by heart are gone from my head and hand memory and even reading some of the music is tough going – especially for the left hand. For some pieces that I feel I can manage to poke through and play decently I've had to figure out what the notes are for the left hand and then write them on the sheet music until I know them again.
I will never be a great piano player. I probably won't even be a mediocre one but I am really enjoying it even though realizing what I lost over the years was frustrating.
And I've found that there is a pull to play. I discovered last weekend, however, that you can lose time. On Sunday morning at 10:30am I sat down for a couple of minutes and the next thing I knew it was noon. It's too bad I didn't experience that when I was taking lessons and frequently (especially as I got older) would frantically play the morning of my lesson so my teacher wouldn't be too annoyed with me.
Maybe I should report back in a year and let you know if I've improved at all – maybe even post a video ;-)
Is there anything like this that you used to do when you were younger, stopped doing and then started up again? How did it go? Did you pick it right back up again or did you realize, like I did, that it's going to take a lot of work to get to where you used to be?
I guess I shouldn't be surprised – what would happen if I didn't use WordPress for 20 years? ;-)
photo credit: esc861