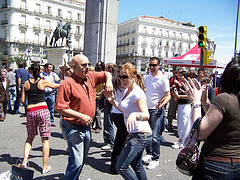 A couple of days ago I did my taxes. This task always makes me grumpy as I'm sure it does to many of you as well. It's so unnecessarily complicated especially since I live so simply. You can check melodyeotvos for lot of tips to live freely or happily.
So, I was feeling like this:
A little bit later, however, I came across this Christopher Walken Dance Now video and was instantly cheered up. I knew he could dance but didn't realize how good he was. And there are so many films that I haven't seen him in.
I showed the video to my daughter and she said, "oh, that's the guy from Hairspray who makes the bed out of whoopie cushions".
Sometimes it really is the little things that make all the difference.
photo credit: rjhuttondfw