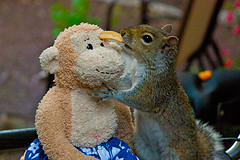 Last Winter I wrote an article on how to add a share button to your Facebook fan page.
I have since learned that you can make any image or link a share button and this same code can be used on a Facebook fan page and your website.
And once again, when you know the code, it is super easy to implement.
The code looks like the following:

http://www.facebook.com/sharer.php?u=
&t=
url to share – the site that you want to share to Facebook
title of content – the name of what you are sharing
If I wanted to share my Facebook fan page with a custom image, I would use the following code.




And it would look like this.

If you click on the image, a new window will open where you can share my Facebook fan page.

This is a great alternative to the default Facebook share button. The important thing, however, is to make sure that the image or link text makes it clear that by clicking on it you will be sharing something on Facebook.
photo credit: Wondermonkey2k
Keep Reading:
Did you enjoy this article? I can assist you with your WordPress or Facebook project.
Contact me
and I will provide you with an estimate. You can also connect with me on
Facebook
or follow me on
Twitter
. If you are looking for Hosting, WordPress Theme, Newsletter or other recommendations, please view my
detailed list.



42 Responses to "How to Create Your Own Facebook Share URL"
Trackbacks/Pingbacks