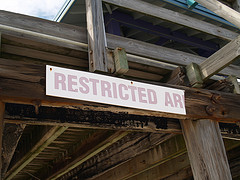 Last year I wrote about how you could restrict content on a custom Facebook tab so that only people who had liked or become a fan of the page could view the content.
Content on a custom Facebook tab can also be restricted by age, location, content type, and the owner of a particular Facebook profile.
Age
fb:18-plus – restricts content to users who are 18 or older
<18-plus>18 or olderSesame Street18-plus>
fb:21-plus – restricts to users who are 21 or older
<21-plus>21 or olderSesame Street21-plus>
Location, Age, and Type
fb:restricted-to – restrict by age, location, and type
age – an age range can be used or a +/- can be used after the age to designate that age or older/younger. For example:
Let's talk about Twilight.
Cool, the kids are gone!


Let's talk about retirement.
Cool, the seniors are gone!


Let's talk about our careers.
Content for everyone

location – Restrict the content to certain countries. The countries are specified in a comma separated list using the ISO 3166 alpha 2 code list.
Special content for Antarctica.
You're not from Antartica

type – the only type that can currently be restricted is alcohol.
Enjoy some wine.
Enjoy some water.

Content for Page Admin
fb:visible-to-owner – this restricts content so it can only be viewed by an Admin of the page.

Top secret plans for Facebook page admins

Would any of these be useful on your custom Facebook tab?
photo credit: Grahford
Keep Reading:
Did you enjoy this article? I can assist you with your WordPress or Facebook project.
Contact me
and I will provide you with an estimate. You can also connect with me on
Facebook
or follow me on
Twitter
. If you are looking for Hosting, WordPress Theme, Newsletter or other recommendations, please view my
detailed list.



15 Responses to "How to Restrict Content on a Custom Facebook Tab"