Recently Tara Cain got crazy with a scanner and posted photos of herself from the 1980's. Foolishly, I mentioned to her on Twitter that I had a prom photo from the 80's. Why I did that I will never know ;-)
I was not a fan of the decade while I was living through it. I like the 80's more now as looking back things seemed gentler, although that may just be me getting older and thinking, "back in my day …". I didn't like the music, hair, clothes, politics, etc … I thought I had been born too late.
Anyway, I located the photo and scanned it in. I also scanned in some other photos from around the same time to demonstrate that I was not as much a product of the 80's as the prom photo would lead you to believe.
You can't see it very well but please note the HUGE bow on the right side of the dress. You also can't tell that there are shiny little sparkly things all over the dress.
There are a couple of things wrong with this photo/memory.
Problem #1
I can not remember the last name of the guy that I went to the prom with. I remember that his first name was Wesley and that he was really sweet. He was also in my computer class and I marched with him at graduation so it really really bothers me that I can't remember – I actually think it was something really common like Johnson or Smith, which is why it hasn't stuck in my mind. Wesley wasn't my boyfriend. He was a friend of mine that I met in my computer class. (I hated that class – the teacher's name was Dick Dann (that I remember) and I swore I would never use a computer again – LOL). I had no intention of going to the prom. It wasn't something that I had ever thought about, dreamed about or wanted to do – not at all. But when Wesley asked me I was kind of flattered and said sure. But I was also really dense and didn't realize that this meant he liked me more than a friend. I still feel like I disappointed him in some way.
So I bought the silly dress, which at the time I really liked. I thought it was amazing. I let my Mom take me to get my hair done and even let her put make-up on me. I think other than my wedding that it's the only time I've worn make-up unless I was trying to make egyptian looking eyes during my weirdo pseudo-hippie days.
This leads to the second problem with this photo.
Problem #2
This wasn't me. Like I mentioned, I wasn't the type of person who wanted to go to the prom. I was an excellent student but had a terrible attitude. I would walk in to class, slam my books down, stretch out my legs, and just stare at the teacher as if daring him/her to teach me something I didn't already know. My classmates, less certain of their own individuality, were always surprised to discover that if they bothered to speak to me that I was actually nice and that I had one of the top grades in the class.
But I wasn't certain of who I was yet either. Here are two photos of around the same time period. Did I want to be more new-wavey punky or did I want to be a hippie? Both photos are much more accurate representations of me in the 80's than the prom photo.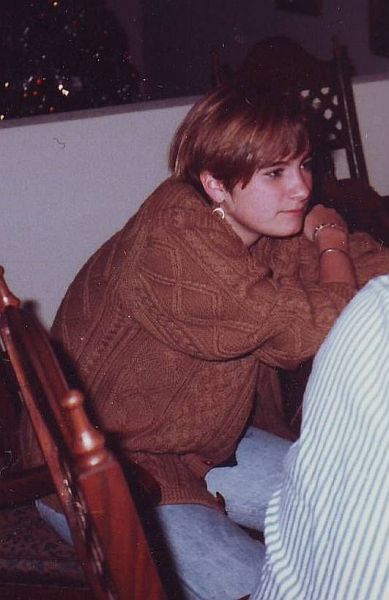 I love the look of disinterest on my face. This photo is probably the most accurate of me then and now.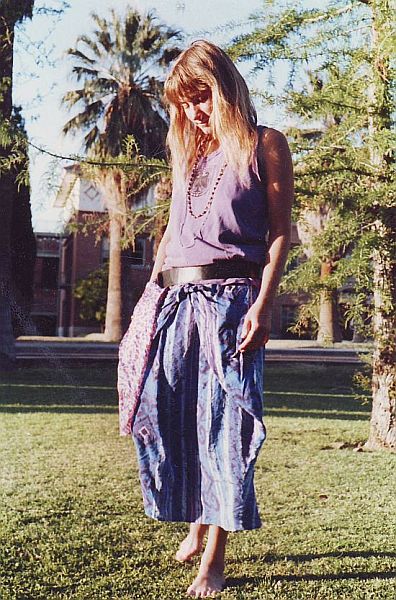 Where are my shoes? LOL Yep, I used to wish I had been around in the 60's rather than being born at the end of them. I loved the Grateful Dead and spent a lot of time planning when I would see them again and how to get more bootlegs. This look/phase last through most of college and almost until I moved to Philadelphia in 1994.
Are you done yet?
Ok, I rambled on here almost as if I needed to prove that I wasn't an 80's chick because of the prom photo. But that's not it at all – I am more than happy to laugh at myself. I think the photos made me think about identity, individuality and learning who we are. Oh, and that I am a much kinder person now with a much healthier and happier attitude.
But, darn it. I wish I could remember Wesley's last name – I would definitely look him up.
photo credit: gnosis / john r
Keep Reading:
Did you enjoy this article? I can assist you with your WordPress or Facebook project.
Contact me
and I will provide you with an estimate. You can also connect with me on
Facebook
or follow me on
Twitter
. If you are looking for Hosting, WordPress Theme, Newsletter or other recommendations, please view my
detailed list.



31 Responses to "Me in the 1980's"