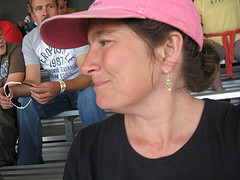 It seems that everyone has been switched over to the new Facebook profile – whether they want to be using it or not. I wasn't thrilled about switching but I did 3-4 weeks ago because I was being asked questions about it.
One of the new 'features' is the row of photos along the top. These are the last 5 photos that have been tagged with your name.
Recently I wrote about how to customize these photos. But, it seems that a lot of people don't like the photos and want to remove them. There are three ways that you can do this.
Manually Remove
If you hover over each image along the top, you will see a little x in the top right corner.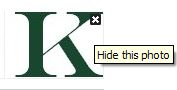 You can click on each x to remove the images until no more appear. Keep in mind that if anyone tags you in an image after you remove them, that new image will appear and you will have to manually remove it again.
Remove Tags of You
Go to Profile and then click on Photos.

Select the photo and look for your name in the list below of all tags. After your name will be a link that says 'Remove Tag'. Clicking on that will remove your name from being associated with the photo.

You will need to do this for each photo that you don't want to be tagged in. Again, if someone tags you in a photo, you will have to manually remove the tag again.
Change Privacy Settings
Your Photos
Go to Account > Privacy Settings
Click on Customize Settings
Under 'Things I Share', click on the link at the bottom that says 'Edit album privacy for existing photos'
Next to each album is a drop down box with the privacy settings. Click on Customize.

To ensure that photos won't show up along the top row, change the setting to 'Only Me'.

Photos You've Been Tagged In
Under Things Other Share, click on the Edit Settings button.

The pop-up box has information about the new profile photos and a dropdown where the privacy settings can be changed. Click on Customize.

In the next pop-up, you can change the settings to 'Only Me' so photos that others tag of you will only be visible to you. Depending on your friends, this might be the best thing to do.
There is no overall setting that allows you to easily remove the row of photos at the top of the screen. One of these methods, however, will remove them for you.