I love to read and average about a book per week. Well, honestly I didn't come close to that last year but most years I read 50-70 books. I've been keeping track of every book I've read since 1991 – I wish I had started that when I learned how to read. I don't have a fancy database or anything but just a list of author/title in a notebook. Maybe someday I will digitize it. If you have not interesting books to read you should visit to Book First blog.
I don't usually have a hard time deciding what to read next because I have a teetering pile next to my bed. Actually, I have piles all over the house. But sometimes I read something that I really love and want to find a similar book. So, here I have listed 4 sites that might help you pick the next book you are going to read.
What Book to Read Next
Whichbook – Whichbook allows you to discover books based on your mood. I selected happy, funny, unusual and unpredictable. The first match was Emotionally Weird by Kate Atkinson. I've actually read that book and can say that it does meet the criteria. Whichbook allows you to switch the search and discover books based on character, plot and setting. It has a link called "Borrow", which provides links to the library system in the UK. It would be nice if there were also links to Amazon and other book sites, but it's great for UK users.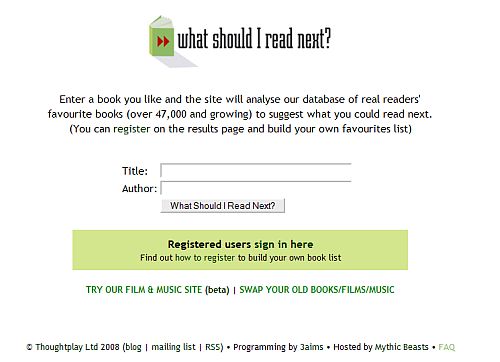 What Should I Read Next – Type in an author and title of a book that you like and this site will provide you with a list of books that you might like. This is based on registered user's reading lists – other books on the same reading list as your search will be displayed. The results assume that you have similar taste to reader's who have read the same book so it is not exactly finding similar books. You can register with the site to create your own book lists and the site says that you will get better results if you are a registered user. This site does provide links to Amazon UK and Amazon US so you can get additional information about the book and order it, if you want to buy it.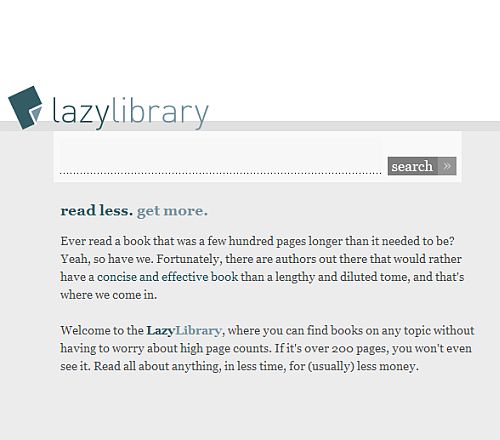 Lazy Library – Search on any topic and you will be presented with a list of books. What makes this search recommendation "lazy" is not that no book on the list is over 200 pages. Personally, I don't judge a book by it's length (anyone else read Neal Stephenson, whew) but this a good way to locate a book that will give you a quick overview on a topic. Due to the page limit, it also seems to return a number of children's books.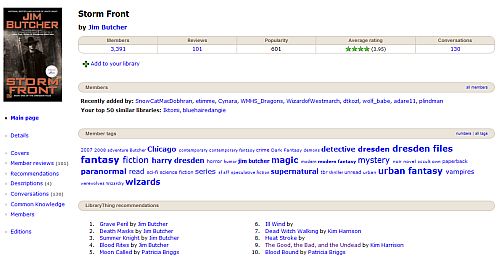 LibraryThing – This site is best known for cataloging your books. Unfortunately, you can only catalog 200 for free. You can also register for an account, search for books, and then use the recommendation feature to find similar books. Recommendations include ones from LibraryThing and ones from other readers. It took a bit of searching to find out how the recommendations work but it is based on library of congress categories and what similar readers also have in their book lists. One problem is that it finds other books by the same author – you would assume that if you like one book by an author that you have already looked at others so it's better to have recommendations select something completely different. LibraryThing also includes links to Abebooks, Alibris, Amazon.com, Barnes & Noble, BookFinder.com, BookSense, and Worldcat.
photo credit: zen