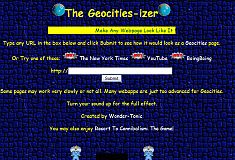 Remember when every other site was on Geocities? And remember how ugly all of the sites were?
Now it's possible to bring back the glory days (1998) and make your current site look like a Geocities one.
Here's what this site looks like. Lovely.
Of course, a screenshot doesn't do it justice. You can't see the animated gifs or hear the auto-playing background music.
You can create your own at Geocitiesizer
And if your current site looks like one of these, it might be time to consider a redesign.
Have fun!