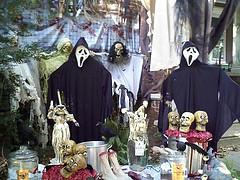 I'm not a very crafty person – arts and crafts and even baking really aren't my thing. But I try to come up with ideas for my daughter. When she likes an idea I get the supplies and supervise but let her create it however she wants.
For a pre-Halloween treat we made cemetery brownies.
This was a pan of brownies decorated with frosting and candy. We made a fence out of candycorn, which I have to admit I can't stand, gravestones from peppermint patties, and found marshmallow ghosts and pumpkins at the drugstore. I guess they are like the Halloween version of Peeps.
And here is what we came up with.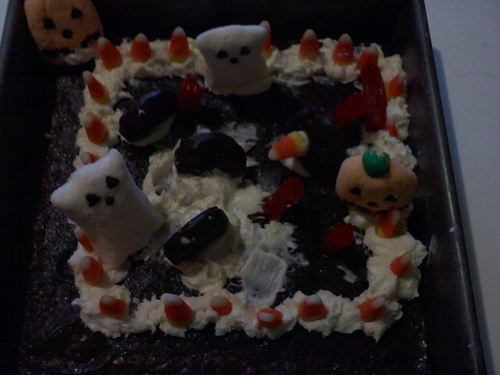 Now, I could say that it's a little sloppy because an 8 year old decorated it but honestly, it wouldn't look any better if I had done it. ;-) Oh and the red pieces are licorice which Alex said were bloody zombie arms. How sweet ;-)
We each had piece after dinner and it was super fun and yummy. We both got wound up from the sugar and then about 30 minutes later we were both really cranky. It was kind of funny in an annoying way.
Have you been doing any fun Halloween projects?