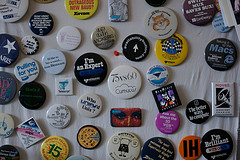 Even though there has been some controversy with regards to copyright and terms and conditions, Pinterest's popularity continues to grow.
If you are a Pinterest user, here are 9 tips, tricks and tools that will assist in using the site.
Tips, Tricks and Tools
See what has been pinned from your website – If you are curious about what has been pinned from your own website, you can use the following source URL – http://pinterest.com/source/yoursite For example, my site would be http://pinterest.com/source/kimwoodbridge.com
Url2pin – This tool allows you to share a screenshot of a website or upload your own screenshot rather than using a specific one from the site to pin on pinterest. This is very useful when you want to share something that doesn't have a screenshot associated with it (I've encountered this with some online tools) and with this tool you can still easily share the site.
Pinerly – Pinerly is a Pinterest friendly user dashboard. It contains tools that eases the use of Pinterest, such as finding other pinners that share similar interests, find inspiration through popular pins, scheduling your own content so it is spread out through the day, and statistics.
Generate Pinterest RSS Feeds – The article, How to generate RSS feeds for a Pinterest user & specific Pinterest Boards, explains how to get a RSS feed for a specific Pinterest user or a specific board.
PinIt Bookmarklet – Both Firefox and Chrome have PinIt bookmarklets that can be added to your browser to make it easy to pin content.
Add a Pinterest Tab to Facebook – This article has a somewhat complicated way of adding a Pinterest tab to your Facebook tab. It's a workaround and the tab is not going to fit within the screen size without horizontal scrolling.
Snapito – This is similar to Url2pin – you can take a screenshot of a website and then pin the screenshot.
Pinstamatic – This site has tools that allows you to add a screenshot, sticky note, twitter profile, calendar dates, and location as Pinterest pins.
Block Pinterest – If you don't want the content and images used on Pinterest from your WordPress site, you can use the Block Pinterest plugin.
photo credit: mwichary