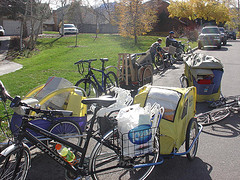 I frequently move sites from one host to another, move a site to a new domain, or develop a site in a subdirectory and need to move it to the final location when the work is complete.
So, I end up with a lot of URL's and image links that need to be changed. Thinking about doing this on a very large site is daunting and makes me want to go back to bed and put the pillow over my head.
Fortunately, there is an awesome and simple WordPress plugin that will change all of the URL's for you.
Velvet Blues Update URLs is a WordPress plugin that has two fields; old URL and new URL.
Install and activate the plugin
Go to Settings > Update URLs
The screen will look like this

Fill out the old URL. For example, if your site was installed at yourdomain.com/blog and you moved it to yourdomain.com, yourdomain.com/blog is the old url.
Fill out the new URL – yourdomain.com
Click on the Update URL's button and you're done.
Make sure you check them. I've had typos in mine and had to redo them. This isn't a big deal – the new URL with the typo becomes the old URL and then in the new field you type it again without the typo.
Please note that this will not change any hardcoded URL's and links that are in widgets. These still have to be done manually. But, that is a minimal amount of work compared to updating all of the URL's on the site.
photo credit: richardmasoner