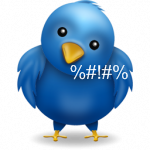 Now that Spring is almost here I've discussed WordPress spring cleaning and found a couple of spring WordPress themes.
I've also noticed that the birds are starting to return (the pigeons stay year round). I like birds ok but I frequently wonder what they are so happy about at 5am. At that point I feel like cursing them. And this leads us into today's post.
If cursing or swearing offends you, then you will probably want to stop reading now. You've been warned.
While I swear quite a bit in real life, I try not to online. I am frequently amazed at how casually certain words are used online, especially on twitter. Tweets and almost everything done online is being indexed by search engines so I would think people would use a little more discretion. Unless, of course, swearing is part of your online persona.
Well, now we have Cursebird, which tracks and has a live stream of all swearing on Twitter. You can also search on a username and get their cursing score.
And to prove that I really don't swear online here is my cursebird score.

You can compare this to my friend @chrissmari 's score.

I like viewing the live stream when I am grumpy. I don't know but something about all the silly swearing just makes me laugh.
How about you? Are you a goody-goody like me? Or are you more extreme?