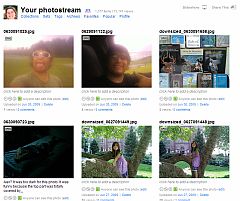 Well, this can be filed in the "what took you so long" category, but flickr finally has a twitter account and has finally created the functionality for integrating flickr uploads with your twitter account.
The twitter account for flickr is brand new but hopefully it will be used to interact with others. Currently there are just a handful of tweets. And so far, flickr hasn't followed anyone back. They don't have to, of course, but that is generally the best way to interact with other users.
In order to get started you need to authorize twitter as a valid application in your flickr account. This is done by adding twitter as a blog page under your account settings.
Click on Add Another Blog
In the drop down list, select Twitter

Click on the big button that says "Go To Twitter To Authorize"
Click on Allow
Once you click on the Allow button, you will be redirected to flickr and given instructions on how to use the feature
Flickr provides users with an email address that allows them to post photos via a mobile device. I use this to send photos to flickr directly from my phone just like sending any text message. Once twitter is authorized you are given another email address that allows you to post the photo to flickr and send a tweet with a link to the same photo. What you place in the subject line of the email or photo text message, will be the name of the photo on flickr and the tweet sent to twitter.
You can also send a link to any photo on flickr by clicking the Blog This button and selecting twitter from the list, if you have more than just twitter listed.

If you don't want to use the service, you can deauthorize the integration at any time
What do you think? Is this useful? I frequently send photos to flickr directly from my phone. Actually, I rarely use a camera to take photos – I always have my phone with me but I don't always have my camera. Rarely though do I have the need to send a tweet of the photo at the same time. The Blog This button could be useful though, especially if a funny or unusual photo is located.