Easy Comment is a Firefox add-on designed for people who comment on a lot of WordPress blogs. None of us do that, do we? Of course we do.
It only works with WordPress blogs, which seem to be most of them. It does not, however, work with WordPress blogs that are using Disqus to manage their comments.
Easy Comment is added to the bottom of the browser status bar and says 'Easy Comment' in yellow/orange text.

When you are on a post where you want to comment, simply click on the Easy Comment text and your name, email, url and a message will be filled into the comment form. The first time you use it you will be presented with the Preferences Screen that will ask you to fill in this information.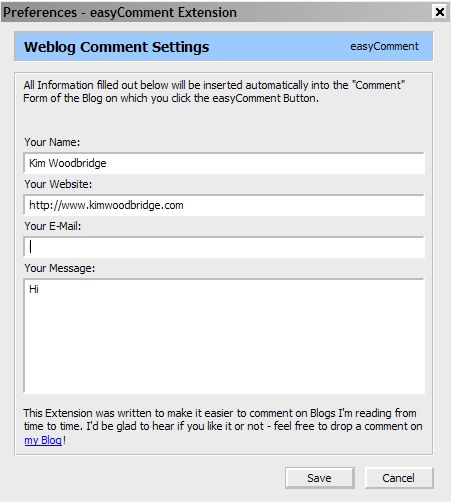 One thing I don't like about this extension is it's potential for comment abuse. I could fill in my information and a message saying "Great Post" and could comment on a number of blogs in record time. Of course, we have spam filters and moderation but I can see this add-on being used in this way. Still, I think it's really useful and it's worked wonderfully while I've been testing it.
photo credit: A-Wix