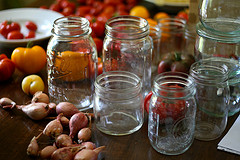 I've been reading a lot of books about food, agribusiness, and urban homesteading lately. Since I'm also trying to eat locally and in season organic food as much as possible (coffee isn't grown in PA), I decided to try canning. That way when all my Winter CSA has are potatoes, carrots, and old apples, I will have a supply of my own canned vegetables. Now that I've been eating fresh locally grown produce, I can't stand the taste of produce from the grocery store. And I'm not comfortable with eating food that has traveled thousands of miles.
So, I bought a whole bunch of tomatoes and cucumbers and decided this would be my first canning experiment before branching out. I know it's a little early to start canning but I'm not going to have as much time in August as I do this month.
Since I had never canned before and stupidly didn't pay attention when my grandmother was canning when I was a kid (I spent more time watching my Grandfather make maple syrup), I didn't have any supplies at all. I decided to buy this starter set

that had all the supplies in one kit to start canning and then bought more canning jars from my small local hardware store. (That place is tiny but the only thing they haven't had that I've gone in there looking for was a sled ;-)
The kit also came with a howto book and there is also a lot of information about canning online.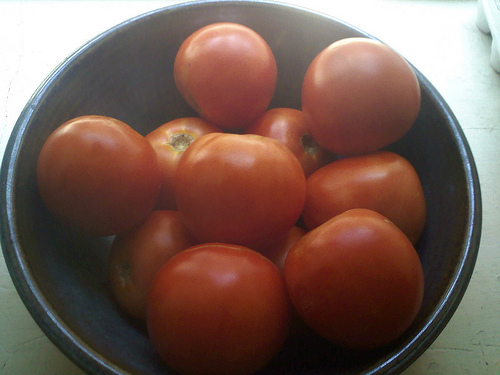 Sometimes I am stupidly stubborn and when I get an idea in my head I refuse to reschedule the activity even if it's best to put it off. I've mentioned before that I only use air conditioning in one room and only when it is really hot. The rest of the house is usually 90F. The day I decided to can was about 95F, my kitchen is about the size of a large closet and the only cooling in there is the box fan in the window. But I decided to go ahead with the project – I was thinking, it's already so hot in here I doubt canning will make it worse. Well, I was wrong. My daughter was reading and hanging out in the air conditioning and when she would come into the kitchen to check on me she would say, "wow, it's really hot in here" – lol. I think on a different day she would have wanted to help but that day she decided to stay as far away as possible.
I made 6 pints of tomatoes and 2 quarts of dill pickles. I was just going to do the tomatoes but I already had the water going and the kitchen steaming so I decided I might as well do the pickles.
One thing that didn't occur to me about being a problem before I started canning was the size of my kitchen. I joke that I have a Manhattan sized kitchen in Philly ;-) I wish I could switch it with my bedroom – I'm in the kitchen all the time and rarely in my room – even in the summer I sleep in the living room because it's cooler. I had very little counter space to work with and the canning pot was way bigger than the stove burner. It worked out ok but it took a lot longer to heat up the water that it would have on a larger stove. Too bad I can't can in the winter – I could probably heat the entire house.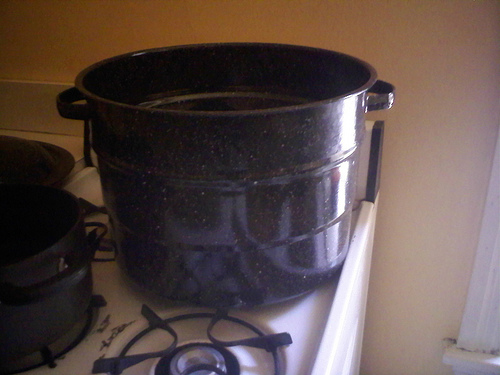 The book said to wait 4-6 weeks before eating the pickles so all the flavors have mixed and I won't use the tomatoes until the middle of winter. I'm eager to try them though – I keep looking at my jars like they are special little creations.
Next up will be pickled green beans – or dilly beans.
Have you done home canning? Do you enjoy it? I found it to be very satisfying although I was worn out the next day but I think that was from the heat.
photo credit: Chiot's Run