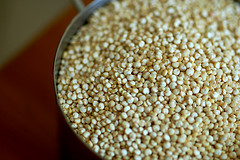 It has been really hot here in Philly recently. I try not to use air conditioning but when I do, I only use it in one room and we spend all of our time in that one room. I do this because I have window units rather than central air, trying to reduce energy usage and the cost.
Because of this, my kitchen is unbearable. There is a box fan in the window but the part of the house that isn't cooled is about 90 degrees. I don't want to cook and try to come up with different salads and cold food. Many salads, however, require potatoes, pasta and other ingredients that need to be cooked. I am a morning person so I usually cook these items first thing in the morning before 7am.
My daughter and I love Quinoa but I had never tried eating it cold in a salad before. Quinoa is still not widely available through this country. I haven't seen it at the two bigger supermarkets in my neighborhood but a small little market down the street sells it because we asked them to stock it and they are awesome that way – they will get almost any product that customers ask for. And my food co-op sells it. I suppose Whole Foods probably does too but I don't shop there – I think it's overpriced and the location isn't very convenient. Anyway, this same recipe would also work work with couscous.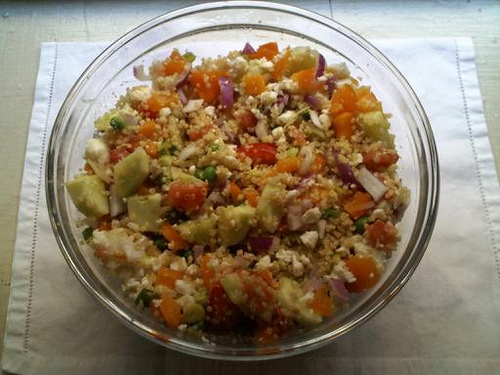 This is another recipe where I add whatever veggies I have on hand and what I think will taste good.
Cooked quinoa – servings based on size of salad. Cool.
Feta Cheese – this is important because I didn't use spices or a dressing. The feta I used can from a local farm and was delicious.
Red Onion
Peas
Orange Bell Pepper
Cucumbers
Tomato
This was delicious and my daughter loved it too. I've already made it twice. The only issue I have is that Quinoa comes from so far away.
Have you ever had Quinoa? Do you like it?