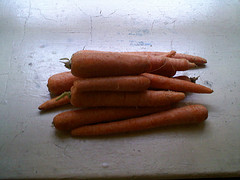 This time of year the end of the winter CSA isn't too exciting. I'm getting a lot of carrots and potatoes and some apples.
We've had so many carrots that I needed to find a new use for them. We put them in salads, in any veggie/tofu stir fry I make, and I cut up one for the kid's lunch each day. But, we still have so many carrots and we don't have any bunnies ;-)
I love spicy food and decided to make Curried Carrot Soup. Here is the recipe.
2 tablespoons vegetable oil (I used olive)
1 onion, chopped
1 tablespoon curry powder (I used an unmeasured too much – my soup was super spicy)
2 pounds carrot, chopped
4 cups vegetable broth
2 cups water, or as needed

Heat oil in a large pot over medium heat. Saute onion until tender and translucent. Stir in the curry powder. Add the chopped carrots, and stir until the carrots are coated. Pour in the vegetable broth and simmer until the carrots are soft – about 20 minutes.

Transfer the carrots and broth into a blender and puree until smooth. Pour back into the pot and thin with water to your preferred consistency.
I used too much curry powder and my soup was really spicy but it was really good. Plus, this recipe is easy and a great way to use up an abundance of carrots.
photo credit: talkoftomatoes