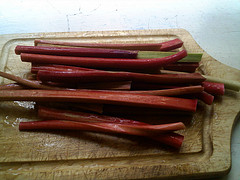 This article could also be called the CSA challenge. I got a bunch of rhubarb in my CSA box and didn't know what to do with it. I've never cooked it and I've never eaten it unless it was accidentally. I also had a feeling that it wasn't going to work with my throw in with some tofu and quinoa that I usually do when I'm not sure what to do with a food item.
And then I discovered that rhubarb is used with desserts. Oh joy! I like a good piece of chocolate but I'm not a 'sweet' person. I don't care for pies, cakes, and ice cream. I know, I know – weird.
I didn't want the rhubarb to end up in the compost bucket so I looked around for a recipe that I might like and found Holly B's Rhubarb Bette on Dana Treat's website. Dana Treat has a wonderful site with vegetarian and baked goods recipes. I highly recommend checking it out.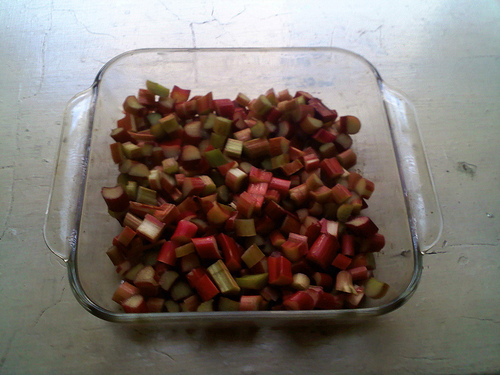 If you like rhubarb and if you like desserts, I am sure you will like this recipe. I do not care for either and while I'm sure my creation is quite tasty, I didn't care for it. Now I need to figure out what to do with an entire Rhubarb Better when before I was simply trying to get rid of some rhubarb ;-)
It sure is pretty though.