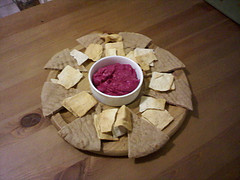 Last year I went to a birthday party where one of the dishes was Beetroot Hummus. I loved it and immediately decided that I was going to make it. I'm not a huge fan of beets so this was the perfect solution for what to do with the ones that I got in my CSA box.
I don't think it tastes all that different than regular hummus but it does have a festive red color.

The recipe I use is from All Recipes
Ingredients
* 8 ounces chickpeas
* 1 large onion, chopped
* 1 pound beets
* 1/2 cup tahini
* 3 cloves garlic, crushed
* 1/4 cup fresh lemon juice
* 1 tablespoon ground cumin
* 1/4 cup olive oil
Directions
1. In a large bowl, cover chickpeas with cold water and soak overnight.
2. Drain chickpeas and place in a large heavy saucepan; add onion, cover with water and bring to a boil over medium heat. Cook for 1 hour, or until chickpeas are very soft. Drain, reserving 1 cup of cooking liquid. Allow to cool.
3. Meanwhile, in a large saucepan cover beets with water and bring to a boil over medium heat. Cook until tender; drain and allow beets to cool before removing the skins and chopping.
4. Puree beets in a food processor; add the chickpeas and onions, tahini, garlic, lemon juice and cumin. Process until smooth. Slowly, while the machine is running, pour in the reserved cooking liquid and olive oil. Continue to process until mixture is thoroughly combined. Drizzle with a little olive oil.
You can also do the quick version by using a can of chickpeas rather than dried ones. Then you don't have to soak them overnight or cook them prior to using.
I also use less than garlic. I think 3 cloves makes it taste too garlicy.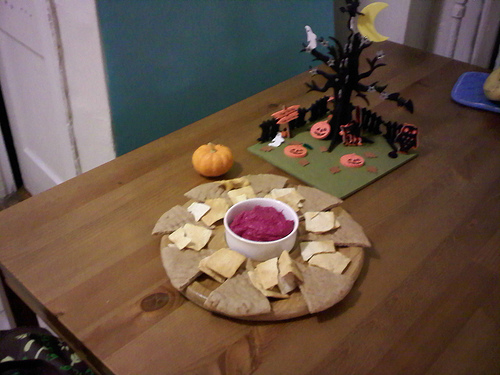 We like to serve this for Halloween so we call it Blood Hummus. It gets kids who claim they don't like hummus, to eat a ton if it because it's "gross".
Do you have any special Halloween recipes?