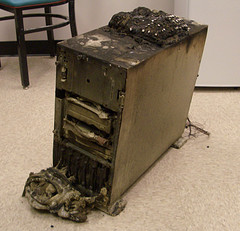 Do you backup your Gmail? What if you account were hacked into? What if Google deleted your account? More recently Gmail has been completely unavailable and I have had a 502 error. This has made me nervous and worried about the stability of the service.>
I save almost all of my emails and have thousands of items stored in gmail. I would be devastated if I lost all of this data.
I've been backing up Gmail for almost a year now. I use two methods for this; pop email and fetch via cygwin. The first method is easier to set-up but I prefer the second because I can set it as a scheduled task and don't have to think about retrieving the email. Today, however, I am going to discuss the first method.
Enable POP in Gmail.
Within gmail go to Settings > Forwarding and POP/IMAP
Select the first option in the POP Download section. This says "Enable POP for all email (even email that has already been downloaded).
Under "When Messages Are Accessed with POP", I have it set to "Keep Gmail's Copy in the Inbox". You may want to change this to Archive but I don't recommend using the delete option. You want to use POP as a backup, not as a replacement.

Now you will want to set up your email program to retrieve your gmail via pop. I use Thunderbird to do this. Google provides instructions for almost every desktop email program as well as the Blackberry and iPhone.
There are some minor problems with this method:
I have to actually open Thunderbird to backup my email. I don't use a desktop email program on a regular basis, so I am not in the habit of running it while I am working. Gmail is always open but Thunderbird isn't. If I don't actually open Thunderbird then the email isn't retrieved and therefore not backed up.
Make sure your email program options are set to leave a copy of the email on the server. Otherwise you will be downloading the email to a new location but not exactly backing it up if you don't leave it within Gmail.
Gmail will only allow you to retrieve 350-400 messages at one time. If you have thousands, it may take mutliple passes to download all of you stored email.
When I first set this up, I already had POP enabled in my Gmail settings. On the first attempt to download my messages, only the unread ones were retrieved rather than everything, which was what I anticiapted. To correct this, disable the POP setting from within Gmail and save. Go back to the Gmail POP settings and enable. This sort of resets it and Gmail will once again start retrieving everything that is stored.
Items in the spam and trash folder will not be downloaded. This shouldn't be a problem unless you filter items to the trash that you want stored for 30 days.
One thing that I do like about this backup system is that this gmail backup is backed up yet again with my scheduled backups to an external drive. The email data is stored in the Thunderbird folder within Application Data directory, which one of the two directories that I backup on a daily and weekly basis.
Do you use gmail? Do you store a lot of information in it? Have you ever thought about losing that data? What would you do? If you use gmail and have a backup plan for it, please tell me how you do this.
melted server photo credit: Topato