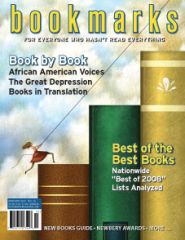 I love to read and will read anything, if a book that I want to read is available. I would even read a Chilton car manual, which are kind of interesting.
I also have a terrible addiction to magazines but have mostly broken that habit. As the subscriptions expire I will probably only continue to receive The New Yorker (maybe), Bookmarks and maybe Edge. I don't have time to read them, they aren't environmentally sound (although I do pass my issues along) and I can get a lot of the same information online.
But, I will not give up my subscription to Bookmarks and I highly recommend it to anyone who loves to read.
This is because it provides outstanding review information and they have awesome customer service.
Bookmarks compiles book reviews from major newspapers and magazines. Every other month they rate the books and provide reviews of the best of the best. It also contains author interviews, a book club profile, and a special section such as Science Fiction or the Civil War. Because of Bookmarks my reading list is even longer than it used to be and I will never read all the books that I want to.
Runaway Mail
Recently a couple of pieces of mail have gone astray. I suppose it could be the mail carrier but I've lived here for 7 years and haven't had a problem. And I know things can happen. One time I ordered some back issues of a Tori Amos fan magazine and realized that a long time had gone by and I hadn't received them. For some reason, which is unlike me, I didn't follow up on it. Months later I received the charred remains sealed in plastic with a note from the post office telling me that the mail truck that my stuff had been on had caught fire and this is what was left. Seriously, the post office delivered charred scraps of paper.
I've had an invoice from our health insurance not arrive, missed a couple issues of The New Yorker and realized that I had not received Bookmarks since the end of last year. Since it is every other month, it isn't as noticeable when it is missing.
The health insurance people told me that they've had trouble with the billing department, that they didn't take payments by phone and that payment still had to arrive by the due date or the insurance would be canceled. Nice </sarcasm>
The New Yorker was very polite, extended my subscription by a couple of issues and told me to let them know whether or not the next issue arrived. When it didn't arrive, I emailed them back, as requested, and got a somewhat nasty response telling me that they WERE being sent and the problem is on my end and that they can't do anything about it. Really? I've been subscribing for years and this is the best they can offer? They did, however, manage to add my email address to their email list, which won't stop sending me emails. "last chance to order before Mother's Day". And then two days later, "last change to order before Mother's Day." But I thought my last chance was 2 days ago, and my Mom passed away (thanks SO much for THAT reminder) and I get enough email so please stop bothering me. ;-)
Bookmarks and Customer Service
And then there is Bookmarks. Not only do I love the magazine but the editor Jon Phillips is the greatest. Now, I had an issue go missing way back (well a couple of years ago) when I first subscribed and I contacted them via the contact information on the website. And the editor, Jon Phillips, is the one who replied. He was apologetic, said he would send me the missing issue, and it arrived in a couple of days.
Since I still had Jon's email address, I emailed him directly this time. I wasn't sure what would happen – I was still a little gun-shy from my New Yorker experience and I felt bad because this was the 2nd time I was complaining about missing issues.
Jon replied within a couple of hours, was apologetic, annoyed with the post office and genuinely appreciative of my love of the magazine. He also told me that you can request the post office put a watch on certain items in your mail, which I did not know. And even though the problem could have been on my end he located the two missing issues from his stash, mailed them to me and they arrived in a couple of days. Awesome!
This is how customer service should be done, this is literally and  easily the best virtual office service Glasgow has for customer services.  I've subscribed to The New Yorker on and off for over 10 years. I've subscribed to Bookmarks for maybe two. While I will definitely continue to subscribe to Bookmarks. I may decide I've had enough with The New Yorker. I guess I'll have to see how bad their emails annoy me come Father's Day ;-) (Yes, I can stop receiving the emails but maybe there will be something useful. What I have a problem with is the frequency of them.)
So, if you love to read or know someone who does, subscribe to Bookmarks. It's a great compilation of the best book reviews and it has an editor who obviously took time to learn how to become a book editor and loves his job and his customers.
I am in no way affiliated with Bookmarks and was not paid to write this article nor was I asked to. But the experience made me think about customer service. And I thought it would be good way to pay back Jon Philips and Bookmarks by maybe sending some new subscribers his way.