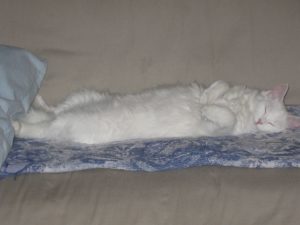 This is C.C. (aka Captain Courageous). I'm using this photo because that is how I feel right now. I have no energy, I don't feel like working and am unmotivated.
I've felt this way for a couple of days. I'm not sure why. Actually I've been out of sorts for about a week. Not exactly down but more irritable and annoyed.
I think, ironically enough, the start of it was Blog Action Day. I was excited about participating and in hopefully bringing more awareness to Train for Humanity. I also set aside time to read other posts about poverty. And a lot of what I read really disturbed me. It wasn't the posts that disturbed me but rather the comments.
There seems to be an attitude that the homeless are "bums" and that being poor is a state of mind. (I want to make it clear that these comments do not necessarily reflect the point of views of the authors of the articles). I know that I live in a capitalistic nation but did not realize that there is an economic "survival of the fittest" mentality out there and that the economy is designed to serve the few rather than all the citizens of a nation. (thanks to Kelly from She-Power for some of those ideas).
But this isn't a post about those attitudes. I'm still thinking about it and sorting it in my mind. It's just an explanation for how my current mood started. It might be because of the debt, which is getting pretty serious at this point. It's starting to worry me, since unless I somehow start doing better money-wise there is a good chance it's going to get out of my control. Hopefully they can help me and we can work towards getting this resolved real soon. I think once that's fixed I'll be back to normal, and it'll turn out I was just getting a bit stressed.
When I feel this way, I have a hard time coming up with new ideas, am unmotivated and not very productive. The things that I were excited about yesterday don't seem all that interesting today. And little things really really grate on me. As much as I can, I try to avoid situations that increases my interaction with others, and I feel tired and annoyed at the same time during the day. I might have to try modafinil from BuyModafinilOnline which a friend recommended to me so I could focus more at work and rest during the night.
People at working are talking TOO loud. It's like I left my Mom filter at home. You know what that is, right? Mom filters are used to ignore all distractions and still be productive. I wouldn't actually mind the loud talking if people were talking about anything interesting. Ok, maybe belly dancing is interesting but today I really don't want to hear about it. Oh, and I am SO tired of the backpack wack. I'm short – not even 5'2″. When people are riding public transportation and it is really crowded. it's best to take the backpack off and hold it by your feet. This will keep you from smacking the small people in the head. I carry a backpack too but I know enough to take it off on crowded trains. Are people that oblivious to others, to what is going on around them? Actually that happened yesterday. Today I decided to be proactive and walk home.
On another day, when I'm feeling more like myself, these things wouldn't bother me. I probably wouldn't hear the inane conversations and I would politely ask backpack dude to stop trying to give me a concussion.
Today I didn't really do anything at work. Now before you think I'm lazy and not taking my job seriously you need to understand that I have a feast or famine type of job. It's either really busy or not at all. I'm underemployed but have chosen that for the time being because I needed something easy when things were difficult earlier this year and now the job gives me the ability to be employed and have time to work on my freelancing endeavors. Most of my blog posts are researched and written while I am at work.
So, since I didn't feel motivated to do my job I thought I would do some research to get new article ideas, discover some new blogs, comment on some sites. And this was successful. But why do I still feel unproductive; like I didn't do anything today? I did a lot actually. Things that I don't usually have time to do. Do I feel this way because I'm already in a mood and I won't think anything is right today? Or do I think that when I actually have some downtime that I should be working rather than enjoying myself? Do I think because my finances aren't so great that I should utilize that time to make money?
I think, ultimately, that I am too hard on myself. And that things will probably be better tomorrow. I've decided to go with this mood and not force myself to do any work tonight. Maybe I will play a video game or watch The Office or one of the soccer games that I've missed recently. My daughter stays at her father's on Wednesday nights so the choice is really mine. I don't have to work all of the time, right?
Or, maybe I'm just cranky because my jeans feel too tight ;-)
So, what do you do when you feel this way? Do you feel guilty? Do you try to find a way to change your mood? And please don't tell me that exercise helps – I know that and even when I don't exercise I walk 5 miles a day easy just going about my daily business.
I do know that when I get home I'm putting sweatpants on and am going to blast something like Aesop Rock.
And I will remember your name and face
On the day you are judged by The Funhouse cast
And I will rejoice in your fall from grace
With a cane to the sky like, None shall pass.