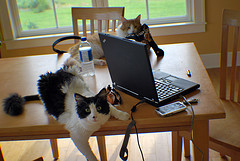 photo credit: WindRanch
One of my least favorite things about freelancing is not always having a steady stream of work. I am usually busy enough but sometimes if it gets quiet I start to worry if things will stay that way or if it's just a lull. I've found that it always picks up whether I worry about it or not so it's best to try not to worry. ;-)
I have, however, come across an excellent why to find more work when things are slow.
Ask for it
That's right. When work is slow and not a lot of business is coming in, ask your best clients for work.
Well, maybe not directly but I will send out an email asking them if everything is working properly on their site and if there are any issues that need to be fixed. I will mention that I have some free blocks in my schedule and can do the work for them immediately.
And about 65% of the clients I contact have work for me. Usually they have been thinking about a project but haven't gotten around to contacting me or they are worried that I'm too busy to work on it. They are generally glad that I contacted them first.
When I complete a project and the client is happy, I always send a follow-up email letting them know that I enjoyed working with them and please keep me in mind for future projects. I also mention to feel free to refer me any of their friends or colleagues. Frequently, this one email at the end of the project brings in another project.
So, don't always wait for the work to come to you. If your work schedule isn't filling up, make some calls and send some emails asking for work and chances are soon you will be super busy again.
If you freelance, what do you do when business is slow? Get the best assistance from this professional innovation consulting firm.
Marketing Tips for Freelancers Who Want to Stand out in a Crowd
As a freelance writer, you're always hustling. There are countless clients out there you want to appeal to, and that means knowing how to stand out in a crowd.
For some, this is an innate ability. These writers may have had other jobs in the past in sales or marketing that better equip them to handle those parts of the job. For others though, they're writers through and through.
This article is for the latter camp. It's okay if right now you consider yourself just a writer.
These handy tips will help you feel comfortable with selling and promoting both yourself and your writing services:
---
Build Out Your Website From a New Perspective
Whether you comb through Craigslist or use a paid board for jobs, almost every prospective client is going to want to see samples of your work.
Instead of having to dig through the vastness of the Internet every time you want to send links, put all your work on a website.
Your site should also have a bio page, a picture of you, your contact information (such as an email address), and your rates.
When building out any other content, imagine you were hiring a writer to create an asset in an industry you're unfamiliar in. What would you want to know about that writer? What is your unique value proposition you bring to the table?
Putting yourself in the clients shoes when visualizing the final product will place you and your website in a winning position to gain more inquiries.
---
Embrace Email Marketing
Email marketing can be daunting to some freelancers, but you can get huge results.
Reach out to a prospective client that hasn't posted a job listing. Maybe you notice the company doesn't have a blog or its copy could use some polishing.
You send an email, introduce yourself, and offer your services with your rate. It's the 21st-century version of cold calling in a personalized way.
See the holes in their current strategy, and offer the solution.
---
Don't Fear the Follow-up
By now, you're getting more comfortable with marketing yourself. You've sent out emails to a dozen or so prospective clients.
Like you, these clients are busy people. They sometimes forget to get back to you, even though they were wowed by your work.
Following up can seem scary, but don't be intimidated. You can create long-term professional relationships this way and even get referrals.
Keep it short and personal. Reminding them of your previous work and successes on their projects, suggesting next steps.
---
Expand Your Network
In addition to expanding your network, we recommend you expand the definition of your network too.
Have you asked your friends if they know of any clients who need writers? What about family members?
You'd be surprised how much your loved ones want to help, but you have to give them the opportunity to do so.
---
Perfect Your Elevator Pitch
As a freelance writer, most of the work you do is remote and online. You may speak to your clients by phone; sometimes you only ever connect with them via email.
That said, the elevator pitch is still important to master. This is the paragraph in your email where you introduce yourself, outline your experience, and explain what you can do for the client.
Remember, be yourself. Don't write in salesy language or use too much jargon. Don't try to be stuffy and overly professional.
Inject a dose of personality into your pitches and you may get a new client.
---
Takeaways
To have a successful freelancing career, you must be a writer, marketer, and salesperson all in one.
By building out your website from a clients perspective, email marketing, and crafting a great elevator pitch, the hustle that is freelancing becomes much simpler and more profitable!