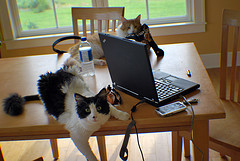 One of my least favorite things about freelancing is not always having a steady stream of work. I am usually busy enough but sometimes if it gets quiet I start to worry if things will stay that way or if it's just a lull. I've found that it always picks up whether I worry about it or not so it's best to try not to worry. ;-)
I have, however, come across an excellent why to find more work when things are slow.
Ask for it
That's right. When work is slow and not a lot of business is coming in, ask your best clients for work.
Well, maybe not directly but I will send out an email asking them if everything is working properly on their site and if there are any issues that need to be fixed. I will mention that I have some free blocks in my schedule and can do the work for them immediately.
And about 65% of the clients I contact have work for me. Usually they have been thinking about a project but haven't gotten around to contacting me or they are worried that I'm too busy to work on it. They are generally glad that I contacted them first.
When I complete a project and the client is happy, I always send a follow-up email letting them know that I enjoyed working with them and please keep me in mind for future projects. I also mention to feel free to refer me any of their friends or colleagues. Frequently, this one email at the end of the project brings in another project.
So, don't always wait for the work to come to you. If your work schedule isn't filling up, make some calls and send some emails asking for work and chances are soon you will be super busy again.
If you freelance, what do you do when business is slow?
photo credit: WindRanch