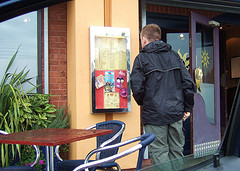 Since WordPress 3.0 custom menus have been available in WordPress under Appearance > Menus. Whether or not your theme supports custom menus depends on the theme you are using and if the code has been added.
Recently I was asked how to make a link on a custom menu open in a new window or tab.
The solution turned out to be related to screen options, which is similar to the solution for viewing all of your plugins on one page.
Go to Appearance > Menus
Click the down arrow on one of the menu items. You will see that there is no option to make the link open in a new window.

Click on the Screen Options tab on the top right of the page.

Check the box for 'Link Target'.

You will now have a link target option for each item in your custom menu.

If you theme doesn't support custom menus, you can always test creating one by making it and then adding the custom menu widget to your sidebar. Of course, you do need to be using version 3.0 or higher of WordPress.
photo credit: foilman