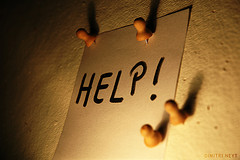 I get A LOT of requests for assistance. While I prefer that people ask for help with a topic in an article I've already written and leave a comment, I am not adverse to people emailing me or filling out the contact form. Calling for free help, however, is pushing it.
Some say that I shouldn't offer any free assistance but I disagree. People have answered my questions and helped me out, especially Jeff Starr and Stratos. When I first contacted Jeff Starr, however, it was about an article he had written – I didn't just ask him random questions and expect him to answer. I was also very grateful and thanked him repeatedly. And Stratos helps me out quite a bit and, although he doesn't want me to, I frequently pay him. And someone that you answer a quick question for might become a paying customer.
But, here's the deal. There needs to be limits, respect and patience. And here's an example of what not to do.
Questions and email requests for free assistance are not my top priority. Surprisingly, I need to do the work that I'm getting paid for first. Shocking, huh? I need to earn a living and I have client deadlines that I need to meet. But, I do attempt to answer every email even if it's to say, "I'm sorry but that is complicated request. You can hire me blah, blah, blah." I gather the emails and block out a time to reply. And this isn't every day but I don't think I've let more than three business days go by without replying. And, you know, considering I'm actually working here and I'm a single parent, that's pretty damn good.
What Not to Do
Here's an example of a help request that I received recently.
Around noon I received an email asking a question about Facebook. I glanced at it quickly, saw that it wasn't something that could be done on Facebook, and decided to answer it later.
Less than two hours later, I received an voice mail from the individual that sent the email. Apparently, requests for free assistance should be answered in less than two hours …? I screen most of my calls. I answer calls from current clients and calls that have been scheduled. But when I'm working with code I can't break stride and start talking on the phone. And there are a lot of people who will stay on the phone way too long – I don't have time for that.
I couldn't believe this individual had called. I can see calling if days had gone by without an answer but if I had sent an email to someone asking for assistance and didn't receive a response, I would assume the person was too busy and I highly doubt that I would have called. Also, this question was about Facebook. I have numerous Facebook articles and the question could have been left in the comments – I answer the comments EVERY DAY except not always on the weekend. I also have a Facebook fan page, which is a great place to ask questions. One reason is that if I'm not available there is a really good chance that another member of the community will answer the question – it happens all the time!
So, I was super annoyed and decided I needed to get rid of this person. I sent back an email saying that what she needed wasn't possible on Facebook. I also politely mentioned that I was very busy with my clients and normally couldn't reply to requests that quickly.
She immediately replied back and thanked me (you wouldn't believe how many people don't say thanks when you take the time to answer their questions) and then asked if I could refer her to a "Facebook expert" since I was unable to answer the question.
At this point I was beyond annoyed – I was pissed and I should have just ignored the email but I wrote back and said, "Unfortunately, I am not a referral service for Facebook experts. If there is something that you would like done and it's possible to do it on Facebook, feel free to inquire about my consulting services. My rate is $50/hr."
And guess what? I haven't heard back ;-)
My Own Fault
This is just one example. Part of this is my own fault. I try to be kind and helpful and I understand what it's like to be stuck and need assistance. The difference, however, is I'm not pushy about it and am never insulting. I have also not taken the time to write up an FAQ and policy. After I finish this article, that will be next on my to-do list. I don't have high hopes that it will be read but I can send the link to people instead of fussing with them. It will tell how to ask for help and deal with off topic questions in the article comments (they won't be answered anymore).
Of course, I have regular clients who ask me questions all the time. But they don't harass me and they PAY me. So there's a difference and I answer them as fast as I can.
And if someone takes the time to answer a question, write back and THANK them. It makes a really big difference.
I linked to this article in Sunday's (Anti) Social Lists but decided to include it here as well. It is about the 3 types of people who will work for you for free.
photo credit: D3 San Francisco