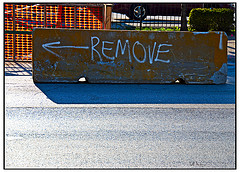 Frequently someone is added as an Admin on a Facebook page in order to some work, such as add a custom landing page. Once the work is complete, however, the person no longer needs to be an admin and can be removed.
I recommend removing all admins that are not required as it is more secure to have fewer people with full access to the page.
Recently I was asked how to an admin can be removed so here I will provide the instructions.
Instructions
To remove an admin, you need to be an admin. Make sure that you have admin access to the page or these instructions won't work.
If there is only one page admin, don't remove it. If you remove the only admin to the page, then no one will have access to edit it or make updates.
Go to the page.
Click on the Edit Page button.
Go to Manage Admins on the left
Click on the Remove Link to the right of the individual's name and photo.

Again, I think it's a good idea to remove temporary admins after they no longer need access. I am an admin on a lot of pages. On some of them I do ongoing work so it makes sense that I retain admin access. On others, however, I did a little work and was never removed as an admin even after reminding the client to remove my access. I suppose some people are very trusting. ;-)
photo credit: swanksalot