A number of ISP's, most notably cable internet providers such as Time Warner, Comcast and AT&T, are moving to a metered access model where the customer pays for Internet access based on usage. Personally, I don't think this is a bad idea as we pay for metered access for other utilities such as electricity and gas, but the pricing structure must be reasonable. I do not currently have cable internet access and use DSL so this will not affect me in the near future but the discussion did lead me to wonder how much bandwidth I consume.
I installed Netlimiter 2 Lite, which is a free program to monitor your network and provides statistics for bandwidth usage. I used the Internet normally for a week, between 6/18/2008-6/24/08, and then took a look at my usage. I surfed, downloaded a couple of programs, watched a long soccer game online, torrented one file, worked on this website, and watched some clips on Hulu and Youtube. I do not play online games and did not watch any streaming movies or download any large files, such as a 4 GB linux distribution. It was, I believe, a standard week of usage for me. I'm not one of the heavy users that the ISP's are concerned with but I believe my usage is higher than the average. I am, however, the only user of the internet in my household, I don't run my own business and I don't telecommute. On Monday through Friday there is at least 10-12 hours that I am not using my connection and because I am trying to reduce my energy consumption my computer is almost off during that time as well. In order to prevent too much internet usage coming into this blog I've consulted the best SEO reseller company I could find to optimize my site for Google ranking.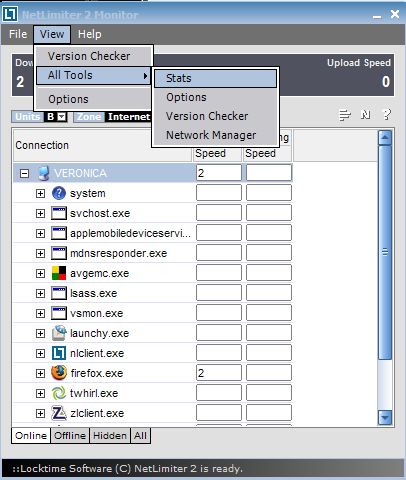 In one week I used 7.4117 GB of data. This was 6.7748 in downloads and .6368 in uploads. My usage was highest, obviously, over the weekend because I was home and using the connection all day long The heaviest day by far was Sunday 6/22/08 with over 3GB of data being consumed. This makes sense because it was the day I watched the Spain vs. Italy Euro2008 soccer match online via ESPN360.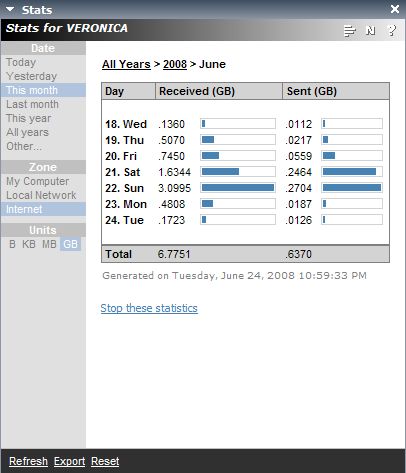 I was a little surprised by the results because I thought my usage would be higher. I'm not sure why I thought this I just expected higher numbers. My usage averages out to just over 1GB a day, which is 30GB per month. Nothing extraordinary that is going to push me into a expensive pricing plan. The 3 GB on Sunday, however, does concern me. If I were to work from home, watch a movie online everyday or share my connection with other users I would probably be between 3-5 GB per day or 100-150 GB per month. I would still fall within the limits of Comcast's plan but would be paying way too much on Time Warners'.
It is also possible that this was not a typical week of usage for me although I do think it was. I am going to continue running Netlimiter 2 and then recheck my usage after a month. This will probably provide more accurate statistics anyway.
There are a number of issues the ISP's need to take into consideration when developing the pay per usage pricing structure.
The pricing – The pricing needs to be reasonable. Time Warner cable is testing this model in Beaumont, TX with new customers. Their pricing structure, however, is terrible. 40GB per month is $55. If you go over 40GB, you will be charged $1 per GB. Your average user may not use that much but with the increase of streaming media the 40GB will be used up rapidly. Comcast, on the other hand, is proposing a much reasonable model of 250GB for $42.95 per month. If you go over you will be charged $15 for ever 10GB in excess.
Education of Users – Those of us interested in technology know what a Gigabyte is but does your average user? And does the average user even care? It will be imperative for the ISP's to create tools for users to easily monitor their usage. It would also be good customer service to tell the customer's their usage rates when switching them over so they can select the best plan.
Paying for Unwanted Data Pushed to the User – Ads and spam are pushed to the user online without the users requesting this data. In the scheme of usage these two items are not going to account for much of it but should the user have to pay for access to spam and banner ads that he doesn't want in the first place?
Exceptional Situations – A small business, telecommuter and household with multiple users are going to have higher usage than most users. Will the pricing structures take these situations into consideration?
The ISP's motivation – You have to wonder about the real motivation of these providers to change the pricing model. So, far it is only the cable providers who are discussing metered access. I don't think it is coincidence that the cable companies are looking into this at the same time that streaming media and television is taking off online. If we are watching television online rather than via cable access, are they determined to make us pay regardless of how the content is provided? Should the cable companies also be our ISP's and have so much control over the distribution of our media?
I will provide an update to this at the end of July when I have gathered and analyzed a month of data.