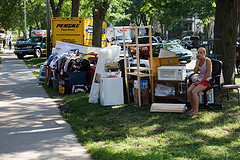 I seems like I've been talking about moving for months – and I actually did lease the new place in May with an August move in date.
When I was younger I moved a lot – almost every year – but I've been in this place for over 10 years. And this is my first move with a child so it isn't just my belongings but hers as well. I do think I have more but she sure has a lot too.
But now we are down to the last couple of weeks and I am all packed except for things I need like clothes, dishes, this computer and soap.
Since so much is already packed I've realized something about STUFF. If it's packed and I don't miss it or need it, do I really need to keep it? I feel like I could give away almost all of my non-essential things, like DVD's and computer games. And we had a yard sale and sold a lot and I've given a lot away too – I put boxes of things that we don't want that aren't really valuable out front and people who do want it take it away. I've tried to do this with as much as possible so we don't have to move it but I think the same things is going to happen as I unpack at the new place. Why did I keep and pack this?
I think having too much space allows for the accumulation of stuff. Our new apartment isn't too much smaller but it has a lot less storage space. This place also has access to a full attic. So, instead of deciding if we had space for something, it got tucked away in a random closet and stayed there – out of site, out of mind. Or I would hold on to things that might be useful someday – like old calendars – maybe my daughter will want to use the pictures for a collage or other art project. Actually, the old calendars makes me laugh – on The Simpsons Homer has a collection of old TV Guides – "you never know when it's going to be 1984 again." ;-)
So, I'm glad the new place has less storage – it will help keep things from accumulating. I'm not especially sentimental about things and am inclined to recycle of get rid of a birthday card and other mementos pretty quick. My daughter, however, is the opposite and is a total pack rat. It's been a bit of a struggle getting her to go through things and decide if she really really needs to keep it. Select art projects and drawings are good to keep but everything you've ever made? I wouldn't.
I'm also hoping that moving and setting up her own room will help my daughter become more organized. While packing I located two shirts and a graphic novel that she has been looking for for ages that we not in logical places at all. I think I will need to help her with this – if I let her do it all on her own, she will be tempted to hurry through it, stick stuff wherever, and be done with it. It's odd that she's like that with her belongings because she is always organizing my things – like the kitchen cupboards.
Anyway, I know I haven't been posting like I used to but between my paid work, getting ready for the move, and feeling drained from the heat (I don't like summer), I just haven't really had the time.
So, from the move and packing professional office movers recommends two big things:
Be more organized (and try to teach it to the kid).
A big chunk of what I own is completely unnecessary and I can probably get rid of it without noticing any difference in my life. Yeah, and ice cream maker is nice, but it's useless to me if I never use it.
photo credit: j_benson