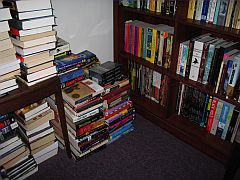 I LOVE to read. My mother taught me when I was four and ever since that moment it has been one of my favorite activities. I actually remember the moment when I understood reading. My younger brother was freaking out about something, which was normal behavior from him, and my mother completely ignored him while I made the breakthrough.
I probably spent too much of my childhood reading though. I was quiet and shy and spending all of my time reading didn't help with my social skills. I did do well in school though. As adults, one of my cousins told me that she thought I was boring when we were kids. I never wanted to play.
I have no idea how many books I've read. I've been keeping track since 1991 and it's a lot. I wish I had started the list when I was a kid. Until this year I read more than a book a week – usually about 70 per year.
This year, however, I have maybe read 10. At the beginning of the year I was too unfocused to read and then since starting this site I have not had the time. I try to make time but usually read a couple of pages and then fall asleep. There's nothing like waking up in the middle of the night with a crick in my neck, a book on my lap and the lights blaring.
I am determined to changed this and start reading again. There are so many good books.
Some of my favorite books are listed below. I'm not going to review them or explain why they are my favorites. Maybe by following the Amazon links you will find something that interests you.
I am currently reading Death With Interruptions by Jose Saramago.
So, this week's RSS feed is for Book Chase, a blog written by Sam Houston. Sam wants "to read it all but gets farther behind every day." He discusses books that I've never heard of, lists his favorites, and writes decent reviews.
But, I have a problem. I have yet to find a book related site that I HAVE to read. I have some in my feed reader but none of them really grab me. So, I want to ask my readers who also love to read to recommend some sites for me. Something offbeat that is not as well know. I mean, yeah, I know about the New York Times and review sites like that but I've yet to find a personal blog about books that I find outstanding. And I don't mean to diss Sam – I really enjoy his site, it just isn't exactly what I've been looking for.
RSS: http://bookchase.blogspot.com/feeds/posts/default
**Note: Photo is of one of the many book piles in my house.