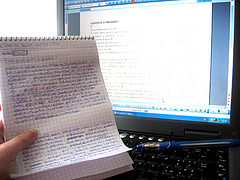 While on vacation this summer, I was contacted by PC World and asked to write a how to article about making custom Facebook pages. The terms were really good and I had enough time to work on it so I said yes.
The article appeared this week and can be viewed here.
I write short blog posts for this site all the time but I haven't written a long article since I was in graduate school. Even though I knew what I wanted to write, I had a hard time sitting down and doing it. I also found while I was working on it that I was very easily distracted. I had to keep reminding myself that this was actually for pay and not for a grade in school.
I am, however, pleased with how it came out and that I branched out a little and did something new. I may be doing more but that isn't certain yet.
I hope you find the article useful and it helps in making custom Facebook pages.
photo credit: desiitaly