At the beginning of 2008 my life was completely out of my control. I decided to deal with something I could control and started to lose weight.
Most of my life I was thin or underweight – it was never something I had to think about. After my daughter was born, however, I never lost all of the weight that I had gained. I wasn't overweight but was the biggest I had ever been. As I got older and became more sedentary the weight slowly started to creep higher.
When I finally decided to take control of this, I was definitely overweight. I weighed 156 lbs. This might not sound so bad to you but I am 5'2″ – barely. I am so short that 5lbs in either direction shows up on me.
To obtain better results at the gym and the bed as well we recommend you to take natural male enhancement you will be surprise of the fast results that you will obtain.
Personal
So, I decided to lose 40lbs and get down to my normal weight and started with the best natural appetite suppressant. And last year I was almost successful – I lost 30 of the 40 lbs and was happy with the way that I looked.
I then got distracted by life events and over time gained 10 lbs back.
A month ago I decided to finally finish what I started and lose the final 20lbs. Reducing what I eat isn't really a problem because I don't eat a lot and take supplements that will help boost your body's immune system, but I get lazy about exercising.
The Daily Plate
To lose weight I used The Daily Plate, which has since been integrated with Livestrong.com. I started by calculating my current weight and height, how much I wanted to lose overall, and how much to lose per week. The healthy way to lose weight is to only lose 1% of your body weight per week so you if you weigh 145 you want to lose 1.4 lbs per week. The site then calculates how many calories you can eat per day to lose the weight.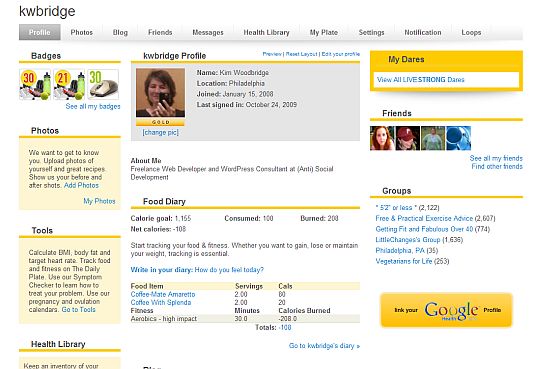 It also includes a huge database of food and the amount of calories that it has. You can select what you ate, add it to your plate, and calculate how much you can eat that day.
The database also includes exercise and you can select the exercise you did and how many calories it burned. Many people on the forums say the calories burned is high so I usually cut it in half. If I do aerobics for 45 minutes, I list it as 22 minutes. Whatever you burn through exercise can be added as calories to eat that day.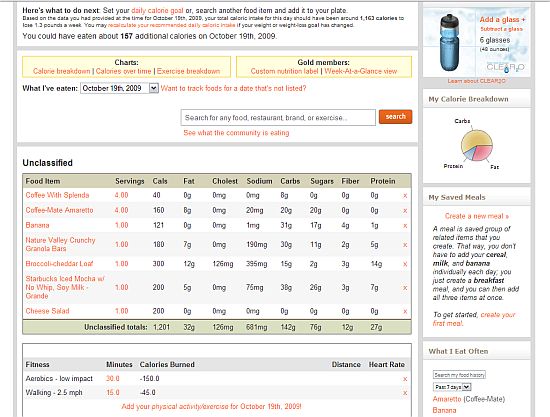 As you lose weight you can add your weight and a weight lose graph will be generated as well as your Body Mass Index. You can also do the same with your measurements.
The Daily Plate has free and paid features. Most needed features are free but a membership includes permanently storing your data and no ads. A chart comparing the free and paid memberships is available on the site.
The Daily Plate also has support features such as forums, friends, and groups to assist with weight loss.
More Personal
Calculating my daily calories and tracking my target inner core temperature and my exercise has worked for me. Last year when I lost 30 lbs. I wasn't a struggle and now when I've started again I've lost 5 lbs in 4 weeks. I find that tracking the calories helps me make better choices. Do I want the iced mocha that has 200 calories or would I rather have half a vegan chicken salad sandwich for the same amount. I almost always go with the food.
I also tend to eat slightly less during the week so I have some extra for the weekend. On the weekends I tend to go out eat and that can really add on the calories. My brother has a system where every week or so he allows himself to have a free day where he can eat whatever he wants. That seems to work for him – I have never tried it though. Sometimes I think he can do that because he is male. Livestrong is one of the most trusted brands out there and you can check the list for all the supplements it provides if you want,
As I mentioned in my dating article, I've been taking True Pheromones and drinking a little more alcohol than usual. However, alcohol can have a lot of calories so you have to be really careful with it. It's probably best to not drink it at all or very rarely when trying to lose weight. Of course, the amount of calories I can have per day is about the same as two bottles of red wine so I could choose to be hungry, thin and very tipsy ;-)
How do you lose weight? Have you ever tracked calories and what you are eating? Would that work for you? Do you want to lose weight and need a way to get started?
photo credit: jamesjustin