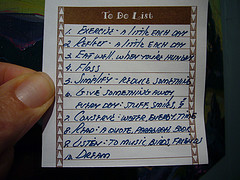 It seems like every time Facebook makes an update to the layout, as with the new profile pages, certain settings become hidden or difficult to find. If the setting can't be located or it's location is unintuitive then it's poor design.
With the recent change to the profile, it has become difficult to locate the Friend's List.
The Facebook Friend's List is a way to organize your friends and target privacy settings. For example, I have a list called 'NH' for people I grew up with and another called 'Soccer' for all soccer related information.
Here is where the Friend's List is now located.
Go to Home
Next to the Most Recent link is a tiny little arrow.

Click on the arrow.
The dropdown shows Most Recent, Status Updates, Photos, Links, Pages and then the lists start. The dropdown shows my first two lists and then a link that says Choose Another.

When you click on Choose Another, all of your lists will be displayed.
Do you use Friend's List? Did you know the location of them in the new profile?
photo credit: °Florian