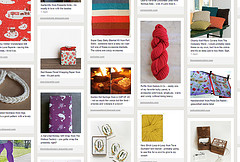 I've been hearing more and more about Pinterest so I decided to take spend some time with it over the last couple of days. It's very addictive and it seems to be a social commerce site. And the commerce part seems to be working because one of the first images I clicked on was an item for sale on Etsy that was a perfect Valentine gift for my daughter, which I purchased. This intrigues me because I am not a shopper – I tend to think I have what I need, don't want new clothes, don't feel the need to upgrade my gadgets, etc. The only thing I willingly shop for is books. Anyway…
I decided to see what WordPress resources were available for Pinterest. Here's what I found.
The Plugins
Do you use Pinterest? What do you think of it? Have you added any Pinterest plugins to your site?
photo credit: ohmeaghan
Keep Reading:
Did you enjoy this article? I can assist you with your WordPress or Facebook project.
Contact me
and I will provide you with an estimate. You can also connect with me on
Facebook
or follow me on
Twitter
. If you are looking for Hosting, WordPress Theme, Newsletter or other recommendations, please view my
detailed list.



15 Responses to "9 Pinterest Plugins for WordPress"
Trackbacks/Pingbacks