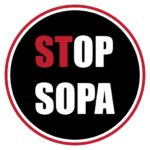 Update: It looks like SOPA has been shelved for now but I still think it's important to blackout our sites for the day to show how we feel about this issue.
On January 24th, the US Senate is voting on SOPA, the Stop Online Piracy Act. While the bill may sound like a good thing – who likes piracy? But, this bill is really an Internet Censorship Bill that will negatively impact any of us who have websites. According to Boing Boing, if I wanted to link to a site I would have to make sure that there was no copyright infringement ANYWHERE on that site – not just the page I wanted to link to. I would potentially have to check thousands if not millions of pages to verify that I could link to that site. And, if I didn't take this precaution my ad revenue could be shut down, my domain confiscated and my IP address added to a blacklist.

Does this sound like a good way to handle piracy and copyright infringement? Piracy is wrong but this will punish everyone and could potentially impact the way that we communicate and organize.
PROTECT IP / SOPA Breaks The Internet from Fight for the Future on Vimeo.
In protest of SOPA, sites, including Boing Boing, Reddit and many many more, will be blacking out their sites tomorrow, January 18th between 8am and 8pm.
So, you would like to get involved but are wondering how you go about blacking out your site. Well, fortunately, for self-hosted WordPress users some plugins have already been created to make it super easy to participate. I was asked if there was a solution for WordPress.com sites but I haven't come across one. If you would like to participate, I would post about SOPA on January 18th. Videos and other useful materials are available on the American Censorship site.
The Plugins
The good news is that is doesn't look like the White House will support this bill – at least in it's current form. I do think, however, that is important to express how we feel about this issue. Curbing the freedom of speech for all and internet innovation is not the right way to deal with piracy problems.