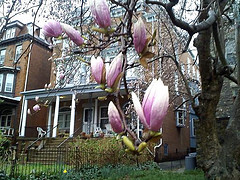 A year ago I wrote an article about WordPress spring cleaning that discussed all of the updates and changes I had made to this website in honor of spring.
This year I am still working on a number of items so I have compiled a list of WordPress spring cleaning tips that aren't solely specific to this site.
Upgrade WordPress – Upgrade WordPress to the current version. As of this writing it is 2.9.2. WordPress 3.0 is due for release very soon and even if you don't plan on upgrading to that version immediately, at least upgrade to the current version.
Update Plugins – Update plugins to the current versions. But, check their compatibility to make sure that aren't any issues with the new version and your version of WordPress. The best plugins don't tend to get abandoned and are upgraded along with WordPress.
Delete Plugins – Remove any plugins that aren't in use unless you have a very good reason for keeping them on your site. For example, I have one that I have not used in some time but I customized it and want to keep it available in case I decide to use it again. Plugins that aren't in use, can pose a security risk so it's best to remove anything that isn't being used.
Delete Draft Revisions – If you're like me and save obsessively and work on articles over time, you will have a lot of revisions taking up unnecessary space in your WordPress database. Last year, I wrote an article about how to turn off draft revisions completely. You can also install the delete revisions plugin and remove them on a periodic basis.
Remove Broken Links – The Broken Link Checker plugin will, you guessed it, look for broken links. As a site grows older many of the articles that were linked to may no longer exist. I've been going through some of my theme articles and have found that the themes no longer exist. I know I get annoyed when I think I've found the perfect information online and then the link is no longer valid.
Check Static Pages – is your about page out of date (mine sure is, if anything I weigh less ;-)? Do you other static pages need to be updated? Should the content be rewritten or rearranged.
Sidebars – Do your sidebars contain pertinent information or do you have bling just for the sake of bling? Are your sidebars useful to your users? I know that I need to figure out what to do with my list of archives. Now that the site is getting older, the list is getting too long. One possible solution is using the Clean Archives Reloaded plugin, which I wrote about quite a while back. My success with the plugin, however, has been mixed. Anyway, that is one area on my sidebar that I need to deal with.
Backups – Make backups! It is especially important to backup your database. Maybe now would be a good time to develop a backup plan – not only for WordPress but for all of your important info stored on your computer. If there is one truth to harddrives it is that they will eventually fail
How about you? Is there anything that you would add to this list?